Treasuries Extend Gains Driven by Fading Bets on Fiscal Stimulus
By
Yields touch lowest levels this month; 30-year probes 3%

Markets pare bets on Trump agenda as Obamacare vote looms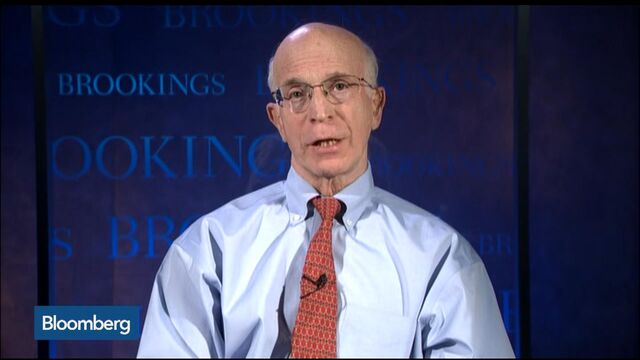 Treasuries rose Wednesday as financial markets grappled with the prospect that U.S. fiscal stimulus will be delayed by Republican infighting over their health-care reform bill.
Yields were lower by one to two basis points at 3:20 p.m. in New York, with the 10-year down 1.8 basis points at 2.40 percent. It declined as much as 4.5 basis points to 2.373 percent, the lowest since Feb. 28. U.S. yields trailed steeper drops for European bond yields amid declines for most stock markets globally. The Republican bill to repeal and replace Obamacare is expected to be voted on by the House Thursday, and Republican opponents say it doesn't have enough votes to pass.

Yields reached session lows, including 30Y's first foray below 3% since March 1, amid initial reports of London terror attack that killed two pedestrians and a police officer
Flows included block purchases in 2Y and 5Y futures as market approached highs, possibly linked to block sales Tuesday in same contracts, and 10Y futures block at below-market price as gains were being pared
Yields declined for a fourth straight day, fell six of past eight days, aided by oil selloff, which has helped lower inflation expectations; oil extended its drop Wednesday to $48
Treasuries also benefited from USD/JPY slide below 111, lowest since late November; daily correlation of 10Y yield with the FX cross over past month exceeds 0.87
Gains have pushed yields toward key resistance levels, strategists say; for 10Y, on a break of 2.39%, "there is very little to prevent a more dramatic move towards the 2.30% range bottom," BMO strategists said in note
Rally also is serving to purge bond market's short base, which has helped drive gains; "inability to maintain the early-March break to higher yields laid the groundwork for the short-covering rally that is unfolding now," JPMorgan strategists said in note
USTs faced limited pressure from subdued IG credit issuance calendar; weekly volume at less than $16b is on pace to be lightest this month
— With assistance by Edward Bolingbroke
Before it's here, it's on the Bloomberg Terminal.
LEARN MORE