markets
The Global Liquidity Party Is Alive and Well, in Charts
By
Lower real rates expected this year, fueling hunt for yield

Fed rate hikes offset by loose global financial conditions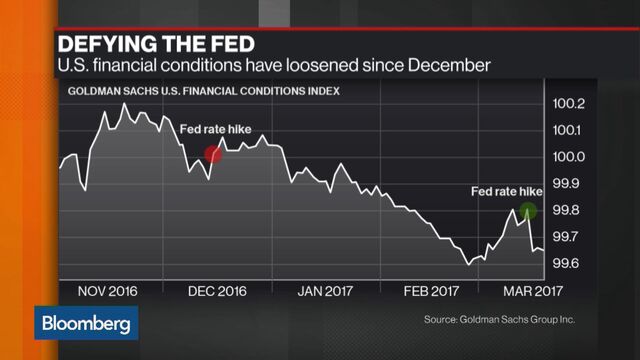 Go on, order another one.
Investors worried about the resilience of the global rally in the face of a recent selloff still have one big reason to keep on partying: Central banks haven't yet taken away the liquidity punch bowl that has supported global asset prices for the past eight years.
In fact, real interest rates around the world are poised to fall in 2017 as inflation outpaces oncoming hikes in benchmark interest rates, creating a technical support that's expected to be a boon for the global hunt for yield.
Global markets, in other words, will still be dancing to a looser monetary beat in the coming months in real terms. That stimulus could help offset rate hikes from the Federal Reserve, as well as concerns over stretched valuations and U.S. President Donald Trump's uphill battle to enact pro-growth policies.
Projections from Bank of America Corp. paint a bullish picture of the liquidity landscape. The global interest rate adjusted for inflation will fall to 0.45 percent at the end of the year, compared with 1.08 percent currently, the bank forecasts.

"Central banks will remain very supportive of growth in the year ahead," Ethan Harris, chief global economist at Bank of America Merrill Lynch, wrote in a client note. "Even with three Fed hikes this year, average policy rates for the countries we cover are expected to barely rise in nominal terms and dip when adjusted for headline inflation."
The bank's dovish projections take into account the average estimated interest rate of 46 countries weighted by their share in the global economy and adjusted for headline inflation.
For markets, an up-tick in inflation combined with low real yields constitute a sweet spot -- for now. The S&P 500 has jumped on the hopes that a benign rise in prices will spur spending and investment, financed by a low effective cost of capital, though the rally faltered on Tuesday as the index dropped 1.24 percent.
Still, market optimism has helped to loosen financial conditions in the U.S. since December even as short-term borrowing costs advanced as the Fed hiked rates. Credit spreads have fallen, while the U.S. dollar has struggled to maintain its post-election ascent this year. That constitutes stimulus to the global economy that offsets the tightening cycle.
"At current levels, financial conditions are poised to make a substantial positive contribution to growth in 2017, from a starting point of essentially full employment, inflation close to the target, and a sub-1 percent funds rate," economists at Goldman Sachs Group Inc. said last week.

Dovish projections over the Fed's medium-term tightening cycle have emboldened market bulls. Based on traditional metrics, such as the Taylor Rule, the Fed's overnight target rate appears too low relative to current price conditions. The gap between the Fed funds target rate and the cost of money indicated by that rule hit the highest level since the 1970s right before the rate increase last week.

It's not just about the U.S. central bank, though. Ongoing stimulus programs at the European Central Bank and the Bank of Japan are still driving almost $200 billion of asset purchases a month, according to Deutsche Bank AG estimates.

Low real rates in the developed world have helped buoy capital flows in emerging markets this year as investors flock to the higher real rates on offer.
And there's another big driver: Investors are no longer receiving extra compensation to own 10-year U.S. Treasuries instead of shorter-maturity obligations, a spread known as the term premium.
The combination of well-anchored longer-dated Treasury yields and rising short-term U.S. borrowing costs encourages investors to pour more money into emerging-market assets.
The stimulative outlook for the global credit cycle has helped boost emerging-market liquidity, according to an index from London-based CrossBorder Capital Ltd., a boutique research firm.
Central bank liquidity, household savings, corporate cash flows, as well as bank and shadow bank lending, have all jumped since late last year, the firm notes. The gauge rose to 62.5 last month, well above its historic average, compared with 52.5 in January, driven by improving growth prospects, and still-potent liquidity conditions in developed markets.
"The data tell us that emerging-market credit and savings flows are growing above trend rates, with liquidity conditions led upwards by China and Brazil," said Michael Howell, founder of the research firm, in a recent note.

China will play a key role in the liquidity outlook this year, with Citigroup Inc. estimating the country is currently responsible for a whopping 80 percent of private-sector credit creation around the world.
While new lending fell last month, largely driven by seasonal factors, UBS Group AG sees China adding the equivalent of Germany's annual economic output to its huge stock of total social financing this year, a broad measure of credit creation and equity issuance, even as Beijing states its intention to curb leverage.

If Chinese credit growth plummets, real rates in developed markets stage an abrupt rise, or central banks tighten policy more than the market currently anticipates, global financial conditions are likely to tighten from a high base -- testing risk appetite.
For now, however, and even after Tuesday's selloff, markets are far from last call when it comes to global liquidity.
Before it's here, it's on the Bloomberg Terminal.
LEARN MORE