Attacker Kills Four Near U.K. Parliament Before Being Shot Dead
By , , and
Among those killed are three civilians, unarmed police officer

Attacker probably inspired by Islamist terrorism, police say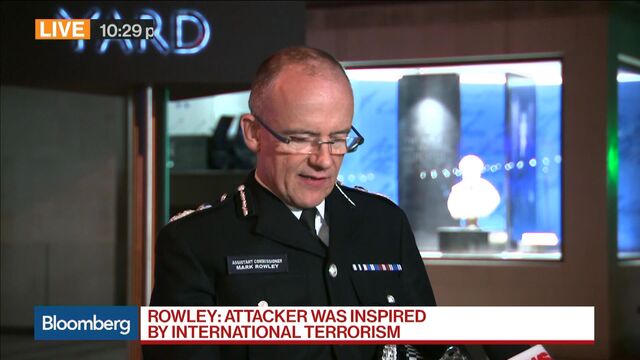 London's worst terror attack in more than a decade left five people dead, including the assailant and the police officer he stabbed, and at least 40 injured.
The attack shut down Parliament, leaving hundreds of lawmakers and workers in lockdown for several hours. Prime Minister Theresa May was in the lobby of the House of Commons before she was whisked to safety in a Jaguar.
Authorities are working on the assumption the attack was "Islamist-related terrorism," Mark Rowley, head of counter-terrorism policing, told reporters after 10 p.m. Police think they know the identity of the assailant, he said. No organization has claimed responsibility.
A car crashed into a fence outside Parliament after running down pedestrians on Westminster Bridge. A man with a knife then ran through the gate and through security, assaulted an unarmed policeman and was shot. Among the dead were people on the bridge and French school children were among those hurt.

"The location of this attack was no accident," May, dressed in black with a quavering voice, said outside her residence -- a 10-minute walk from the scene. "The terrorists chose to strike at the heart of our capital city."
Read more: How the attack unfolded
Tawhid Tanim, 28, a sales assistant who works near Parliament, described how he heard three gunshots and was told to run by police. "All I could hear was loud shots, gun shots - bang, bang, bang. People started running away. I could see a car had smashed the wall of Parliament," he said. "Police were saying 'move, move."'
The attack adds to the sense of turmoil in the U.K., where political instability is already growing amid plans to start withdrawing from the European Union next week. It's London's biggest terrorist attack since the multiple bombing of the transport network in 2005, and strikes a symbolic -- and highly fortified -- site in the center of London.
It's exactly a year since the worst terror strike in Belgium's history, in which 32 people were killed and hundreds more were wounded at the Brussels airport and Maalbeek metro station, and a day after the U.K. joined the U.S. in unveiling new security measures banning laptops and iPads from flights from some Middle Eastern countries.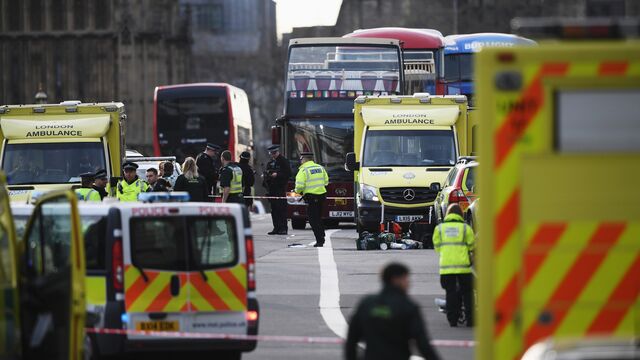 2005 Flashback

The U.K.'s last major terrorist attack was in July 2005, when four radical Islamists targeted morning rush hour, killing 52 civilians. More recently, in June 2016, Labour lawmaker Jo Cox was killed by a right-wing extremist, while in May 2013 a British soldier was stabbed to death outside his southwest London barracks by two men.
British police have arrested record numbers on suspected terrorist charges since the country's terror threat was raised to its second-highest level in August 2014. Rowley said extra police officers, both armed and not, will roam the streets of London and the army will be called upon if needed. The alert level remains unchanged.
May struck a defiant tone in addressing the country, urging people to carry on.
"Tomorrow morning Parliament will meet as normal; we will come together as normal; and Londoners and others from around the world who have come here to visit this great city will get up and go about their day as normal," she said. "They will board their trains, they will leave their hotels, they will walk these streets, they will live their lives, and we will all move forward together, never giving in to terror."
Watch Next: Theresa May Calls London Attack 'Sick and Depraved'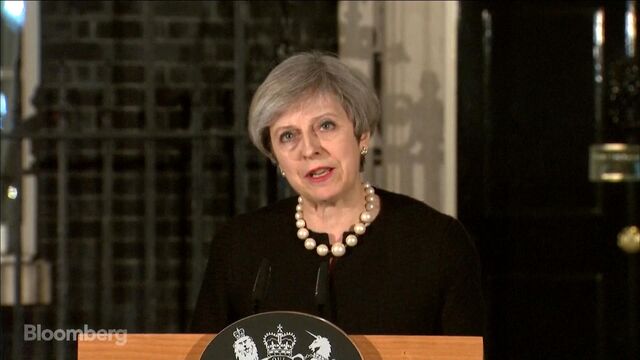 — With assistance by Stephanie Bodoni, Caroline Alexander, Joe Mayes, Jeremy Hodges, and Brian Swint
Before it's here, it's on the Bloomberg Terminal.
LEARN MORE