ZTE's Record U.S. Sanctions Deal Includes Caveat on Cooperation
By
China firm re-sold network gear to Republic of Iran, U.S. says

Unusual provision allows firm to avoid sharing 'state secrets'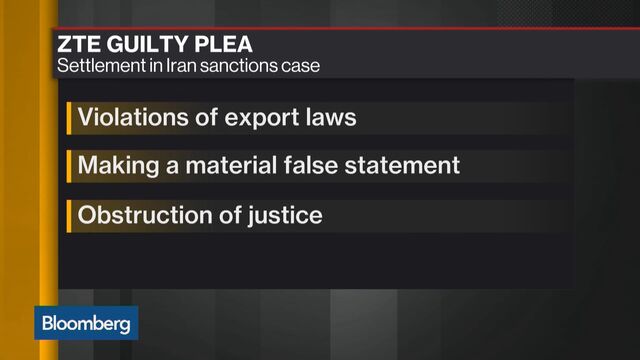 ZTE Corp. of China is preparing to plead guilty and pay as much as $1.2 billion to resolve allegations that it violated U.S. laws restricting the sale of American technology to Iran.
Although it's the largest U.S. criminal fine against a Chinese company, an obscure provision in the plea agreement may deny the Justice Department the kind of cooperation that it typically receives from such deals.
The plea by China's second-biggest network equipment maker was expected to be entered in a Dallas court on Wednesday afternoon. It calls for the company to pay $892 million in fines and forfeitures and be subject to an additional $300 million in penalties if it violates the terms of the settlement.
The agreement ends a year of uncertainty about the company's ability to do business in the world's biggest economy. Under the terms of the settlement, filed for court review in the Northern District of Texas on March 7, the company will plead guilty to three felonies: violations of export laws, making a material false statement and obstruction of justice.
Like many of the plea agreements struck in recent years between the Justice Department and European banks over sanctions violations, the deal requires ZTE to provide full cooperation with U.S. and foreign law enforcement authorities, with standard exceptions covering attorney-client privilege and work-product doctrine.
Unusual Exception
But the ZTE plea deal also contains an unusual exception, in that the company is not obligated to disclose any information that might violate Chinese law governing state secrets. U.S. law firms operating in China have warned their clients that the statute lets the Chinese government define a wide range of information as state secrets.
"That covers, like, everything," said Eric Dubelier of Reed Smith, who says it's the first time he's come across the invocation of the Chinese law in a plea agreement. "The Chinese are very, very aggressive about what constitutes a state secret."
At the same time, Dubelier said, the qualification makes sense. "You have to give credit to the DoJ," he said. "You can't compel a company to violate a law of their own country."
ZTE, based in Shenzhen, China, sells smartphones as well as networking gear throughout Europe and Asia and buys components from American companies including Qualcomm Inc. and Micron Technology Inc., according to data compiled by Bloomberg.
Re-Sold Goods
The Commerce Department blocked U.S. exports to ZTE in March 2016 over allegations that the company re-sold goods to Iran, only to suspend that ban several times after both sides opened negotiations.
According to court documents, ZTE, either directly or indirectly through a third company, shipped approximately $32 million of U.S. items to Iran between 2010 and 2016 without obtaining export licenses. In early 2010, ZTE began bidding on two different Iranian projects involving the installation of cellular and landline network infrastructure.
"ZTE engaged in an elaborate scheme to acquire U.S.-origin items, send the items to Iran and mask its involvement in those exports," Acting Assistant Attorney General Mary McCord said in a statement.
The U.S investigation of ZTE provoked a response last year from China's government, which urged the U.S. to remove ZTE from its blacklist to avoid damaging economic and trade relations.
ZTE is China's largest maker of network equipment after Huawei Technologies Co.
Before it's here, it's on the Bloomberg Terminal.
LEARN MORE