Philippine Rate Pressure Prompts Analysts to Call for Early Move
By
First time since 2014 economists aren't unanimous in forecasts

Most analysts say benchmark rate will stay on hold Thursday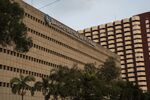 For the first time in more than two years, economists aren't unanimous on the next interest rate move by the Philippine central bank.
With inflation pressure building and the currency under stress, bets are rising that Bangko Sentral ng Pilipinas may be the first in Southeast Asia to tighten monetary policy this year. While it may not happen on Thursday -- all but two of 21 economists predict the bank will keep its benchmark rate at a record-low 3 percent -- a rate hike may not be far off.
"It's a tough call," said Gundy Cahyadi, an economist at DBS Group Holdings Ltd. in Singapore. "We see the case for policy tightening: growth momentum is strong, liquidity is abundant, and inflation is ticking up faster than we've expected. But we see reduced odds of a rate hike now," given recent comments from policy makers suggesting a move wasn't imminent, he said.
While Governor Amando Tetangco signaled last week there's no need to adjust policy just yet, inflation now exceeds the benchmark rate, which can cause distortions in the economy. The central bank is the only one in Southeast Asia that a majority of economists predict will raise interest rates this year.

"The BSP is already behind the curve," said Vaninder Singh, a Singapore-based economist at Natwest Markets, a unit of Royal Bank of Scotland Group Plc. "The Philippines is now in negative real rates territory. Given where growth is right now, that can lead to asset bubbles and something officials should respond to."
Asian central banks are also contending with the prospect of capital outflows and weaker currencies as the U.S. tightens monetary policy. The peso has dropped 1.2 percent against the dollar this year, the worst performing Asian currency tracked by Bloomberg.
Growth Surge
While inflation accelerated to 3.3 percent in February, the fastest pace since November 2014, it's still within this year's target of an average 2 percent to 4 percent, giving the central bank room to pause on Thursday. Tetangco said last week there was no immediate need to adjust monetary policy and reiterated his view after the Fed's hike.
Price pressures are building after the economy expanded 6.8 percent in 2016, among the fastest in the world, signaling that a rate increase may only be a matter of time. Most economists surveyed by Bloomberg predict Bangko Sentral will raise its benchmark rate at least once by the third quarter. Tetangco is scheduled to step down in July.
Money-market conditions in the Philippines have tightened relative to peers, with interbank rates rising to their highest level in almost five years this month, according to data compiled by Bloomberg.
"Ultimately, it may not be this time but the rate hikes will come sooner or later from BSP," Cahyadi said.