One Spanish Lawmaker Stands Between Rajoy and a 2017 Budget
By
Canary Islander is seeking more spending for his region

Budget struggle threatens Rajoy's claim to stability in EU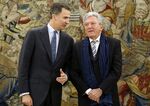 Pedro Quevedo never imagined he'd hold the fate of the Spanish government in his hands.
The 61-year-old doctor went largely unnoticed during his first six years as a lawmaker for a small Canary Islands party in the national parliament. But since the eruption of two new parties broke up the traditional dominance of Spain's two main parties, Quevedo's vote has become crucial to the stability of the administration.

While Mariano Rajoy managed to take office for a second term last year, after two elections and a 10-month standoff, he's yet to win approval for his 2017 budget, a key test of his ability to govern.
Rajoy has 137 deputies in the 350-seat chamber and has support from another 32 representatives of the centrist party Ciudadanos. A handful of other regional votes take him to 175. Opposition parties mustering 174 lawmakers have signaled their opposition to Rajoy, turning the focus on the sole representative of the New Canaries party.
"I can take the pressure," Quevedo said in an interview at his office in Madrid Tuesday. "This isn't my first rodeo."
In exchange for his support, Quevedo is seeking more funding for the Canary Islands, the most remote of Spain's 17 semi-autonomous regions. He's already started negotiations with Fernando Martinez-Maillo, deputy secretary general of Rajoy's People's Party, though he declines to give details of the talks.
"It's no secret, we're poorly financed, always at the bottom of the list," he said. "It's Rajoy that needs to take responsibility and make an offer, not the opposite. I'm not completely shut to this, I view it as opportunity to improve a flawed system, but it won't come at any price."
Speaking in parliament on Wednesday, Rajoy reiterated that the government will present the bill to the floor on March 31 and parliament will then have to vote on it. The prime minister said that negotiations will continue in the hope of getting an accord.
Threatening Stability
Traditionally, lawmakers from the Canaries have complained that its geographical distance from mainland Spain puts it at a disadvantage, which translates into fewer opportunities, more unemployment and a lack of investment compared to other regions. In return, the central government has set sales tax at 7 percent, compared to a general rate of 21 percent on the mainland, as well as other perks such as subsidized plane tickets.
Under Spain's regional financing system, which redistributes levies collected in wealthier regions like Madrid and Catalonia, public spending in the Canary Islands exceeds tax revenue by 1,690 euros per person, according to the Budget Ministry in Madrid. That's the fourth-biggest subsidy of the 17 regions.
While a defeat would have a little impact on Rajoy's efforts to narrow the budget deficit, after a series of last-minute measures last year, it could see investment and spending on key ministries reduced and delay openings for new for civil servants posts.
What's more, the struggle to pass a budget shows the limit on Rajoy's powers in the most fragmented parliament the return to democracy in the 1970s and threatens the premier's claim that Spain can provide political stability in Europe during a year which sees critical elections in Germany, France and the Netherlands.
"In a context of global uncertainty and a heavily political year in Europe, keeping Spain off the radar is an asset that Rajoy doesn't want to risk," said Angel Talavera, an economist at Oxford Economics in London. "Worst case scenario, if he really isn't able to govern, he can always call a snap election. But that would be a last resort."
— With assistance by Esteban Duarte
Before it's here, it's on the Bloomberg Terminal.
LEARN MORE