Health-Care Providers in Trader Sights Before Obamacare Vote
By and
Downward momentum accelerated after Republican plan unveiled

Hospitals, managed care providers and tool companies at risk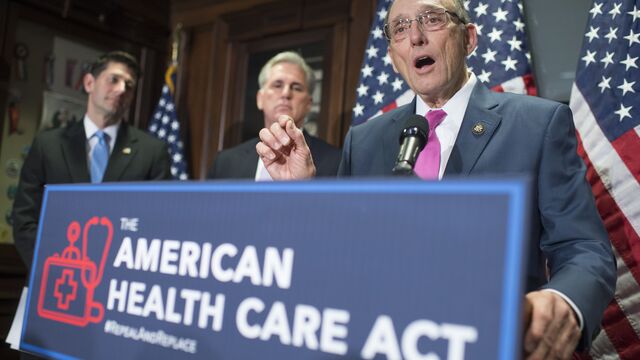 Hospital and managed-care stocks are limping into Thursday's vote on a bill that would repeal parts of the Affordable Care Act.
An index tracking U.S. health-care providers slipped as much as 0.6 percent Wednesday, extending its losing streak to five days, the longest since August 2015. The gauge, which counts UnitedHealth Group Inc. and HCA Holdings Inc. among its largest components, has slipped 3 percent over the period.
A technical indicator suggests the pain may just be getting started, with a reading of downward momentum in the Dow Jones U.S. Select Health Care Providers Index having accelerated since the House turned in the final draft of its ACA replacement plan on March 6. The moving average convergence-divergence pattern, which turned positive after President Donald Trump's election stoked a rally of as much as 15 percent in the stocks, hasn't been this extended to the downside since Nov. 4.

Here are the key areas of health care to watch before Thursday's vote:
1. Hospitals
An index of hospital stocks surged as much as 35 percent following the election, more than triple the return of the S&P 500 Index. Goldman Sachs Group Inc. attributed the rally to investor skepticism that an ACA replacement would be a near-term risk. Now that a vote on the measure is imminent, and amid a 15 percent retracement of post-election gains, analysts are bracing for more weakness.
"These are dangerous times," for hospitals, Mizuho analyst Sheryl Skolnick said in a March 22 phone interview. "Whether it's a good, bad or indifferent bill, he will damn well repeal and replace it"

Says "expect a sizable relief rally" if the bill doesn't pass

The drop in hospitals up to this point is an overreaction to the bill, Veda Partners analyst Spencer Perlman said in a March 22 phone interview. He thinks it's unlikely all the changes being proposed right now will end up being part of the final law
2. Managed Care
An index of managed care providers surged 21 percent in the period following the election through March 15, almost doubling the S&P 500's return. Down 2.6 percent since then, these stocks are at risk of a further decline with Trump's bill expected to scale back national health care coverage, draining profits from insurers with Medicaid exposure.
Companies with the highest Medicaid exposure, such as CNC and MOH, have the most downside if the bill is passed, Leerink Partners analyst Ana Gupte wrote in a March 21 note

Says HUM, ANTM, UNH, WCG may benefit if repeal goes through as the current bill repeals the Obamacare tax, further paving the way for broad tax reform

Revisions of the ACA announced on March 20 could be a "significant negative" for Medicaid-exposed managed care companies, Evercore ISI analyst Michael Newshel wrote in a March 21 note
3. Life Sciences Tools & Services
An index of life sciences tools and services companies climbed 11 percent in the post-election period through March 15, matching the S&P 500's return. The sector, which has fallen 2.1 percent since, is joined with hospitals through capital spending budgets.
If the bill fails to pass, investors may also see less of a chance for the "apocalyptic" 2018 budget being pushed through, Perlman said

The proposed budget threatens a significant cut to National Institutes of Health funding, according to Perlman, though he sees "no chance" of the 2018 bill passing in its current form