Gorsuch Pressed on Abortion as He Moves Toward High Court Seat
By and
Nominee begins second day of testimony before Senate panel

Feinstein urges Gorsuch to consider 'real life' situations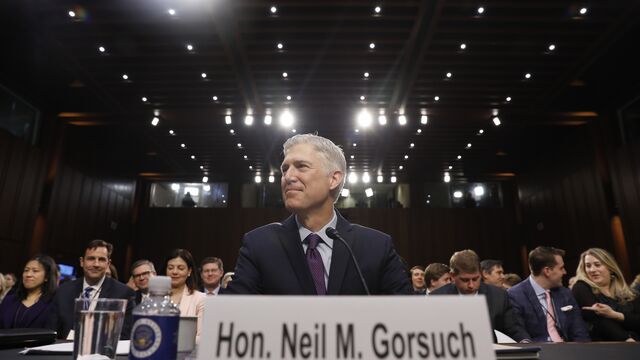 A Democratic senator pressed U.S. Supreme Court nominee Neil Gorsuch to recognize the "real life" situations of young women when considering cases involving abortion during a second day of testimony at his Senate confirmation hearing.
"All I can promise you is that I will exercise the care, consideration, due precedent that a good judge is supposed to," Gorsuch told California Democrat Dianne Feinstein, the top Democrat on the Judiciary Committee, on Wednesday. "I can't promise you more."
Feinstein responded that she wasn't asking Gorsuch to promise how he would vote on a case. Still, she said, "Young women take everything for granted today, and all of that could be struck out with one decision."
On the larger issue of rights for women, gays and lesbians, Gorsuch said he believes the Constitution's equal protection guarantee applies to all even if the original drafters were "racist" and "sexist."
Republican Senator Lindsey Graham of South Carolina disagreed with Feinstein's queries.
"If we're going to vote against a nominee because they won't tell us things that we want to hear about issues important to us, then the whole nominating process has become a joke," Graham said.
'Slander This Man'
Graham said criticisms of the Gorsuch nomination by some Democrats -- including House Minority Leader Nancy Pelosi of California and Massachusetts Senator Elizabeth Warren -- were out of bounds.
"Apparently it's OK for you to slander this man and none of you say a damn thing about it. I don't think it's OK," Graham said.
Democrats say they fear Gorsuch will reinstate a conservative Supreme Court majority that over the past decade has voted 5-4 to roll back protections for consumers, workers and racial minorities, while giving corporations new rights.
During more than 10 hours of testimony by the nominee Tuesday, Democrats on the Judiciary Committee worried aloud that he would favor powerful institutions, threaten abortion rights and cozy up to President Donald Trump.
For each issue, Gorsuch, 49, had a ready answer. And while his comments did little to mollify Democrats, they kept him on track to winning confirmation from the Republican-controlled Senate and securing a lifetime position on the nation's highest court.
When lawmakers asked him Tuesday about Roe v. Wade, the abortion-rights ruling that Trump has said his appointees will overturn, Gorsuch said the president never asked him to take that step. If he had, "I would have walked out the door," Gorsuch said.
QuickTake on Gorsuch and the Supreme Court
And when Democrats pressed him on Trump's campaign call for a ban on Muslims entering the U.S., Gorsuch avoided a direct answer while saying the Constitution offers multiple protections against religious discrimination.
"Nobody is above the law in this country, and that includes the president of the United States," he said.
He stopped short of chastising Trump by name for the president's criticisms of judges who ruled against him.
"When anyone criticizes the honesty or integrity or the motives of a federal judge, I find that disheartening, I find that demoralizing," Gorsuch said. Asked by Democratic Senator Richard Blumenthal of Connecticut whether that included Trump, Gorsuch responded, "anyone means anyone."
'Playing Dodgeball'
Tuesday's performance left some Democrats frustrated.
"Judge Gorsuch looks like he's playing dodgeball with the Senate Judiciary Committee," Senate Minority Leader Chuck Schumer of New York told reporters Tuesday. "He has bent over backwards to avoid revealing anything, anything at all, about his judicial philosophy or the legal issues that concern the American people."
Republicans are united behind the nominee. Senator Lindsey Graham of South Carolina called Gorsuch "one of the most qualified people I think President Trump could have chosen from the conservative world."
Democrats will be hard-pressed to stop Gorsuch given Republicans' 52-48 control of the Senate. After the hearings are over, Democrats must decide whether to mount a filibuster or provide the eight votes the GOP needs to advance his confirmation. If they do attempt to block confirmation, Republicans could unilaterally change the rules to ban filibusters, an approach known as the "nuclear option."
Judiciary Chairman Chuck Grassley of Iowa has said the committee plans to vote on Gorsuch's nomination April 3, and Senate Majority Leader Mitch McConnell of Kentucky repeated Tuesday that the full Senate will vote later that week, before a mid-April Senate recess.
Democrats said they will hold Gorsuch to a higher standard than previous Supreme Court nominees, in part because of last year's successful Republican blockade of Merrick Garland, President Barack Obama's choice for the seat that has been open since February 2016.
Before it's here, it's on the Bloomberg Terminal.
LEARN MORE