Gorsuch Parries Objections, Moves Toward Supreme Court Seat
By , , and
Nominee answers on abortion, Trump and freezing trucker

Democratic leader Schumer says judge is 'playing dodgeball'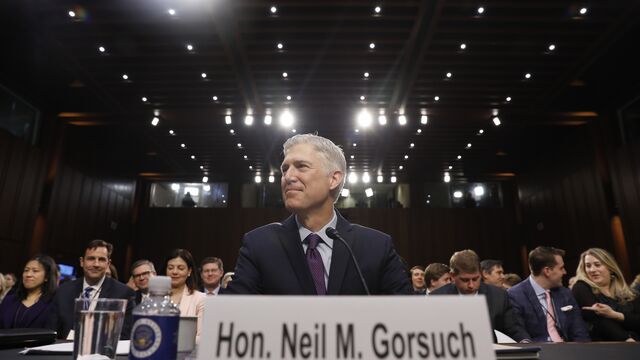 Neil Gorsuch stepped closer to filling the U.S. Supreme Court vacancy by parrying Democratic objections to his nomination over 10-plus hours of questioning.
Senate Democrats spent the longest day of Gorsuch's confirmation hearing Tuesday worrying aloud that he would favor powerful institutions, threaten abortion rights and cozy up to President Donald Trump.
For each issue, Gorsuch, 49, had a ready answer. And while his comments did little to mollify Democrats, they kept him on track to winning confirmation from the Republican-controlled Senate and securing a lifetime seat on the nation's highest court.
When Democrats cited rulings that went against sympathetic litigants, Gorsuch recited other decisions that favored them. "If you want cases where I've ruled for the little guy as well as the big guy, there are plenty of them," he said.
When lawmakers asked him about Roe v. Wade, the abortion-rights ruling that Trump has said his appointees will overturn, Gorsuch said the president never asked him to take that step. If he had, "I would have walked out the door," Gorsuch said.
QuickTake on Gorsuch and the Supreme Court
And when Democrats pressed him on Trump's campaign call for a ban on Muslims entering the U.S., Gorsuch avoided a direct answer while saying the Constitution offers multiple protections against religious discrimination.
"Nobody is above the law in this country, and that includes the president of the United States," he said.
The marathon session, the first of two days of scheduled testimony by Gorsuch, was mostly cordial but included a few tense exchanges. They included a back-and-forth with Democratic Senator Al Franken of Minnesota over the case of Alphonse Maddin, a truck driver who was fired for abandoning his trailer on the side of a road after waiting several hours in subzero temperatures for a repair truck.
'Absurd' Result
In a dissenting opinion, Gorsuch said the trucking company didn't violate federal law. Franken said Gorsuch's interpretation would have produced an "absurd" result. "It makes me question your judgment," said Franken.
"My heart goes out to him," Gorsuch told Franken.
Gorsuch repeatedly pointed to statistics indicating broad agreement with his fellow judges on the Denver-based appeals court over the past decade. He also defended his view that the Constitution should be interpreted in accordance with its original meaning, while trying to minimize the implications of that approach.
"I'm not looking to take us back to quill pens and horse and buggies," Gorsuch said.
He stopped short of chastising Trump by name for his criticisms of judges who ruled against him.
"When anyone criticizes the honesty or integrity or the motives of a federal judge, I find that disheartening, I find that demoralizing," Gorsuch said. Asked by Democratic Senator Richard Blumenthal of Connecticut whether that included Trump, Gorsuch responded, "anyone means anyone."
Birth-Control Rulings
Gorsuch also sparred with Blumenthal over 1965 and 1972 Supreme Court decisions that guaranteed the right to use contraceptives. Although Gorsuch said those rulings were settled precedents and in no danger of being revisited, he declined to say directly that the decisions were correct.
Questioned about his work in the Justice Department under President George W. Bush, Gorsuch said there was a "tug of war" within the administration over a presidential statement that sought to reserve the option of harsher interrogation methods in special situations. Gorsuch said he was among those who wanted a "gentler" statement.
The performance left some Democrats frustrated.
"Judge Gorsuch looks like he's playing dodgeball with the Senate Judiciary Committee," Senate Minority Leader Chuck Schumer told reporters. "He has bent over backwards to avoid revealing anything, anything at all, about his judicial philosophy or the legal issues that concern the American people."
Gorsuch did provide a tidbit about his pre-nomination meeting with Trump, saying the president "briefly" mentioned Roe.
"He said that one of the topics that came up during the course of the campaign was abortion and that it was very divisive and split people equally," Gorsuch said. "And then he moved on to other topics."
Conservative Majority
Democrats say they fear Gorsuch will reinstate a conservative Supreme Court majority that over the past decade has voted 5-4 to roll back protections for consumers, workers and racial minorities, while giving corporations new rights.
Still, Democrats will be hard-pressed to stop Gorsuch's nomination given Republicans' 52-48 control of the Senate. Under current rules, Democrats need only 41 votes to filibuster the nomination, but Republicans could change those rules with a simple majority vote, an approach that has become known as the "nuclear option."
Republicans are united behind the nominee. Senator Lindsey Graham of South Carolina called Gorsuch "one of the most qualified people I think President Trump could have chosen from the conservative world." He added, "Frankly, I was worried about who he might pick. Maybe somebody on TV."
Judiciary Chairman Chuck Grassley has said the committee plans to vote on Gorsuch's nomination April 3, and Senate Majority Leader Mitch McConnell of Kentucky repeated Tuesday that the full Senate will vote later that week, before a mid-April Senate recess.
Democrats said they will hold Gorsuch to a higher standard than previous Supreme Court nominees, in part because of last year's successful Republican blockade of Merrick Garland, President Barack Obama's choice for the seat that has been open since February 2016.
Before it's here, it's on the Bloomberg Terminal.
LEARN MORE