markets
Five Things You Need to Know to Start Your Day
Get caught up on what's moving markets.
By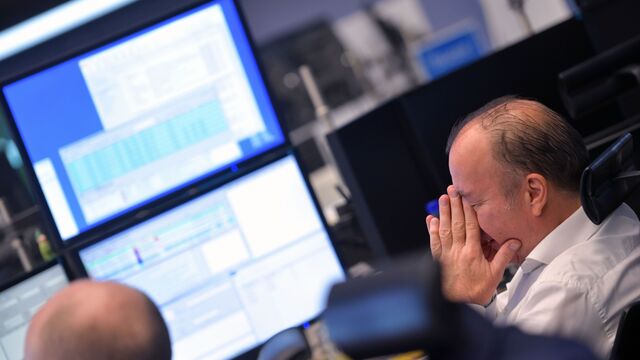 Want to receive this post in your inbox every morning? Sign up here.
The global selloff continues, oil prices slide at a bad time for drillers, and a rate rise in Chinese money markets puts pressure on interbank lending. Here are some of the things people in markets are talking about today.
Market selloff
Yesterday's drop in U.S. equities, which saw the largest fall since President Donald Trump was elected, has spread across the world. Overnight, the MSCI Asia Pacific Index fell 1.4 percent while Japan's Topix index lost 2.1 percent. In Europe, the Stoxx 600 Index was 0.9 percent lower at 5:15 a.m. Eastern Time with almost all industry groups falling. U.S. stock market futures were also weaker. 
Oil drop
A barrel of West Texas Intermediate for May delivery was 80 cents lower at $47.44 as of 5:30 a.m. ahead of U.S. inventories data due later today. The drop in oil prices comes at the worst possible time for drillers with banks due to start annual credit-line reviews in the coming month. For one major producer -- Libya -- the problems are not with funding exploration, but rather with getting production through its ports on the war-ravaged country's coast. 
Chinese liquidity
Shadow banks in China are feeling the squeeze as interbank rates climb across the board. The People's Bank of China injected hundreds of billions of yuan into the financial system to help ease the liquidity drought as some smaller lenders failed to make debt payments. The problems in the repo market, which has seen the overnight rate climb to 3.28 percent -- higher than the yield on five-year Chinese government bonds -- may need a bigger fix than PBOC liquidity injections. 
Fed outlook
Federal Reserve Bank of Cleveland President Loretta Mester said the U.S. central bank should start shrinking its $4.5 trillion balance sheet this year if the economy continues to improve. In the shorter term, the bond market does not seem to be reacting to near-term Fed interest rate expectations, with the U.S. 10-year yield at 2.4014 percent as of 5:45 a.m. this morning, 10 basis point lower than where it was trading the day before the Fed hiked rates last week. 
Brexit plans
Goldman Sachs Group Inc. and Morgan Stanley have revealed that they are planning to move staff and operations from London to elsewhere in the European Union as Prime Minister Theresa May prepares to trigger Britain's exit from the bloc. Away from finance, carmaker BMW said it's reviewing its factories in the U.K., noting that it has flexibility to shift production elsewhere. Consultancy firm Mercer said in a report that the hospitality industry is most at risk from Brexit.
What we've been reading 
This is what's caught our eye over the last 24 hours.
Before it's here, it's on the Bloomberg Terminal.
LEARN MORE