Tillerson Asks Allies in Islamic State Battle to Boost Efforts
By
Secretary of state speaks at gathering of 68-member coalition

He calls for 'interim zones of stability, through cease-fires'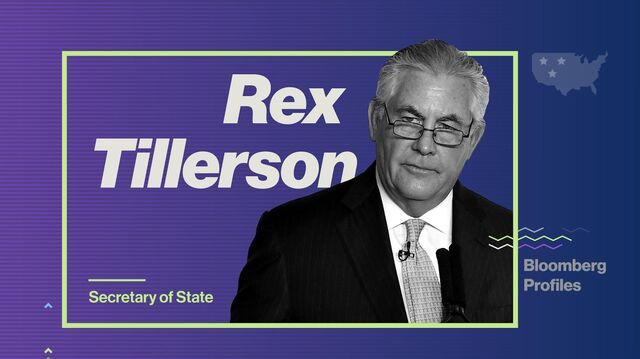 U.S. Secretary of State Rex Tillerson urged members of a 68-nation coalition fighting Islamic State to contribute more as the campaign evolves from a military operation to one focused on stabilizing areas freed from the terrorist group.
Speaking at a meeting in Washington of foreign ministers from the coalition, Tillerson said that while the alliance would work to clear landmines and restore water and electricity, it must not be in the business of nation-building and reconstruction. And while the U.S. will remain involved, he said, other nations need to step up.

"The United States will do its part, but the circumstances on the ground require more from all of you," Tillerson said. "I ask each country to examine how it can best support these vital stabilization efforts, especially in regard to military and financial resources."
Tillerson's message underscored the challenge that the U.S. faces under President Donald Trump in fighting the group. Trump's administration calls the fight against the group its top priority in the Middle East but is also wary of getting mired in the region again after he campaigned criticizing past presidents for overextending themselves in Iraq and other conflicts abroad.
London Attack
Soon after the conference began, reports emerged of an attack in London near Parliament, which authorities said was being treated "as a terrorist incident until we know otherwise," without indicating who might be responsible. U.K. Foreign Minister Boris Johnson is attending the Washington conference and had no immediate plans to leave, an official traveling with him said.
The anti-Islamic State coalition was formed by former President Barack Obama in an effort to eliminate the threat from the terrorist organization. It's one of the few initiatives started by the previous administration that Trump has retained unchanged, even keeping in place its coordinator, Brett McGurk.
Conference participants may have been hoping for at least some hints of Trump's long-promised new strategy to defeat Islamic State.
Trump said during his presidential campaign that he had a "secret" plan to defeat the terrorist group and later that he'd give his generals 30 days to offer their own solution. While Defense Secretary James Mattis has made recommendations to Trump on what the administration is calling an "accelerated" campaign, no decisions have been disclosed.
'No. 1 Goal'
"I recognize there are many pressing challenges in the Middle East, but defeating ISIS is the United States's No. 1 goal in the region," Tillerson said at the start of the two-day meeting. "When everything is a priority, nothing is a priority. We must continue to keep our focus on the most urgent matter at hand."
Tillerson's remarks suggested the broad approach would remain unchanged for now. The coalition will continue to fight along five tracks spelled out by the previous administration -- a military campaign, targeting foreign terrorist fighters, supporting counterterrorism financing, stabilizing areas freed from the group and countering its online messaging.
Using the new administration's favored acronym for the group, Tillerson said the coalition's goal was the "regional elimination of ISIS through military force."
He didn't provide details in his opening remarks except to say the coalition would seek to set up "interim zones of stability, through cease-fires, to allow refugees to return home." That may be a scaled-back version of Trump's pledge to create "safe zones" in Syria, which could require extensive military involvement in the absence of a cease-fire accord.
Tillerson also cautioned that the group was spreading elsewhere, establishing camps in the Pacific Rim, Central Asia and South America.
Iraqi Prime Minister Haider al-Abadi, speaking to ministers after Tillerson, urged those present not to give up the fight against the group until it is completely eliminated.
"We are in the stage of completely decimating Daesh and not containing it," he said, using an Arabic abbreviation for the group. "I call on everyone in this global coalition to decimate Daesh and not to contain it."
Before it's here, it's on the Bloomberg Terminal.
LEARN MORE