politics
Fed Looks Past Trump Stocks Rally, Sees Same Old Tired Expansion
By and
Stock investors pin hopes on growth pickup as Fed sees 2% slog

Yellen & Co. avoids trying to forecast messy political process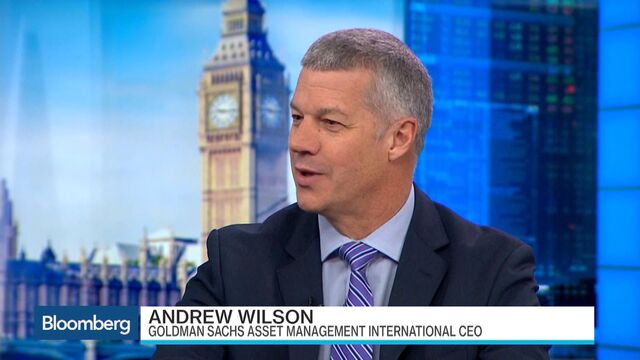 If U.S. stock investors are true believers in President Donald Trump's economic agenda, count members of the Federal Reserve as agnostics.
The S&P 500 Index rose in seven of Trump's first eight weeks in office before suffering on Tuesday its biggest one-day setback under the new administration. Yet the Fed appears unswayed by the market's euphoria. It unveiled forecasts last week that showed officials predict about 2 percent growth in the first three years of Trump's presidency -- little changed from their December estimates. Also unaltered was their expectation for three interest-rate increases in 2017 and three next year.
The Fed's cautious outlook shows central bank officials aren't prejudging whether Trump can deliver on a plan to revitalize the U.S. economy with shock therapy: deregulation, infrastructure spending, retooled trade agreements and tax reductions intended to raise growth to 3 percent or more.
Trump's first two months in office are proving that getting an ambitious agenda through even a Republican-controlled Congress is easier said than done. "There are a lot of hopes and dreams built around this administration," said Ellen Zentner, chief U.S. economist at Morgan Stanley in New York. "It is a tall order to deliver."
For eight years, the expansion has been driven by Fed monetary policy that kept interest rates at or only slightly above zero. But now, as it raises rates and slowly withdraws from the stimulus game, the Fed is effectively handing off the burden of spurring growth to the White House and Congress. They control the levers of fiscal policy -- taxes, infrastructure spending, and a key propellant the economy needs to reach a higher gear: federal funds to invest in human or physical capital that yields more output per hour.

When asked how the Fed is responding to the Trump economic plan, Fed Chair Janet Yellen said at her March 15 press conference: "There is great uncertainty about the timing, the size, the character of policy changes that may be put in place." She said some Fed officials had "penciled in" some fiscal policy changes into their forecast, while "we have plenty of time to see what happens."
The Fed's forecast underscores its view that there aren't any inflation-inducing booms in store for the economy soon.
Sub-Par Growth
"They don't see regime shift" and "are definitely not incorporating some comprehensive reform into their forecast," said Ethan Harris, head of global economics research at Bank of America Merrill Lynch. Indeed, the top end of the range of gross domestic product growth forecasts from 17 Fed officials was 2.4 percent in 2018. Their longer-run estimate of how fast the economy can grow was unchanged in their most recent forecast at 1.8 percent.
Stock investors still anticipate that the Trump plan could be a boon for corporate profits, giving growth a big boost at a time when the rest of the world is looking healthier: China's economy has stabilized and Brexit hasn't turned out to be a disaster in the U.K. that spread to the rest of Europe.
"When was the last time the economy was as healthy as it is today, and Washington began to talk about a cocktail of fiscal stimulus, deregulation, and tax cuts?" said Richard Bernstein, who oversees more than $4 billion at the New York investment firm that bears his name. "The answer is never."
Some of the excitement fizzled Tuesday. A stock benchmark constructed by Richard Bernstein Advisors called the RBA American Industrial Renaissance Index, which includes companies such as RBC Bearings Inc. and American Railcar Industries Inc., sank Tuesday to its lowest level since early December, but is still up about 18 percent since the election.
There's a lot at stake for people of all incomes: The economy will either prosper and accelerate with productivity-enhancing investment, or slog along with the moderate growth and meager compensation gains for workers.

At the heart of the Republican tax reform proposal is a cut in corporate rates to 20 percent, from 35 percent, the biggest reduction in history, Republicans say. Corporate investment expenditures can be fully written off.
Ike Brannon, a former tax specialist in the U.S. Treasury Department under President George W. Bush, said that Republican plan could boost productivity by stimulating investment. A measure of such spending slumped for four consecutive quarters before rising at a 1.9 percent annual rate in the final period of last year, a dire sign of corporate expectations about the future.
By moving the corporate tax rate more in line with other countries, it could also provide incentives for U.S. companies to keep operations here instead of moving them offshore, and possibly create more jobs, Brannon said.
That gets to the political delicacy of the Trump experiment. If the whole package fails to deliver faster growth and simply skews toward the wealthy and to stock investors, then a significant part of his constituency hasn't won anything.
"If Trump doesn't deliver for middle-class people, they are going to look for something else," said Brannon, who is now president of consultancy Capital Policy Analytics. "They understood that he was going to look after them first."
Obamacare Fight
And then there's Congress. While Republicans have a majority in both chambers, the troubled Trump-backed effort to repeal and replace the Affordable Care Act shows just how difficult it is to pass a big, sweeping law with multiple stakeholders. A loss or a prolonged political battle could sap the president's political strength if it goes down in defeat.
Tax reform also faces formidable obstacles. The bitter partisan divide in Washington makes it difficult to attract Democratic support in Congress, and Republicans are fractured over issues such as whether to shift to a border-adjusted tax, which is vehemently opposed by retailers.
"It is incredibly difficult to know what will make it through the process we have," said Donald Marron, the director of economic policy initiatives at the Urban Institute in Washington.
For now, Fed officials don't seem perturbed that some business sentiment indicators are around the highest levels in years while their own forecast calls for more of the same slow but steady growth. They want to move rates higher, and shrink their $4.47 trillion balance sheet -- in other words, return policy to something more normal. Their bigger worry may be that they can't because the current administration doesn't deliver.
"There is an underlying current of discomfort among key policy makers that all this incredible rise in sentiment could be built on a house of cards because it is based on the assumption" that stimulus passes later this year, said Morgan Stanley's Zentner. "Fiscal policy could very well disappoint."
Before it's here, it's on the Bloomberg Terminal.
LEARN MORE