business
Your Evening Briefing
Here are today's top stories
Bloomberg News
Want to receive this post in your inbox every afternoon? Sign up here.
What's at stake for the GOP if Congress fails to repeal and replace Obamacare? At least two consequences crystallized into warnings today. For one, the party could lose seats in the 2018 election, President Trump told House Republicans in a closed-door meeting. In addition, top Republicans argue they could miss out on a once-in-a-lifetime chance to overhaul the tax code with massive cuts.  –Emily Banks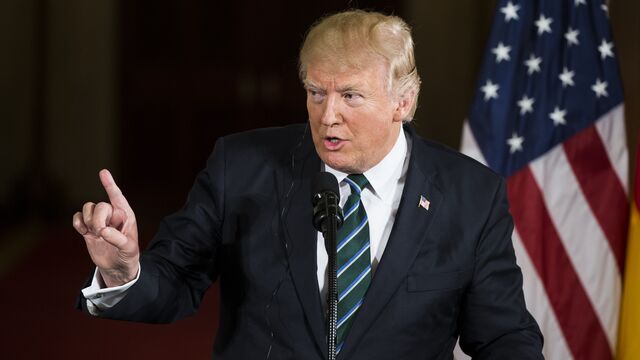 Failure to repeal Obamacare would endanger tax-cut goals, some in the GOP warn. As a health-care replacement bill backed by House Speaker Paul Ryan struggles to gain support from House conservatives and Senate Republicans, some GOP lawmakers argue that failing to repeal Obamacare could imperil their goal of a massive tax cut–and perhaps more of Trump's legislative agenda. The health-care legislation contains tax cuts of its own, about $883 billion worth over 10 years. Accomplishing those tax cuts would set a lower revenue baseline, Republicans say, giving them a better chance of achieving revenue neutrality in subsequent tax legislation.
Neil Gorsuch told senators he made no promises about how he would rule on cases, and he wasn't asked to do so when Trump nominated him to the nation's highest court. Gorsuch called the landmark Roe v. Wade abortion-rights ruling a "precedent of the United States Supreme Court. It has been reaffirmed," though he gave no indication of whether he thought the case was correctly decided. Gorsuch faces another day of questioning Wednesday.
Travelers from 10 Mideast airports to the U.S. won't be allowed to carry on devices, under a new rule issued by the Trump administration. Any electronic device larger than a mobile phone–such as laptops and portable DVD players–will have to go in the airplane's cargo hold. Homeland Security issued the emergency directive at 3 a.m. New York time Tuesday to carriers that fly to the U.S. from airports in Jordan, Egypt, Turkey, Saudi Arabia, Kuwait, Qatar, United Arab Emirates and Morocco. Later Tuesday, the U.K. joined the U.S. in a similar ban.
Apple introduced a new version of its most popular-sized iPad at the cheapest price ever and a shiny red iPhone 7, sales of which will help to combat AIDS. The new 9.7-inch iPad will have a brighter Retina display and start at $329. A special edition red-aluminum finish iPhone 7 and iPhone 7 Plus are part of the company's decade-long partnership with (RED), which contributes to the Global Fund to fight HIV and AIDS.
How much will you need to retire? Two in five Americans say $1 million. If you're guessing at a figure, you're in good company. Only 41 percent of workers have even tried to ascertain how much they'll need in savings to comfortably put their feet up. A common refrain when asked about how they'll fix a savings shortfall is to work longer.
Asia dominates a new list of the world's most expensive cities. Singapore and Hong Kong have held onto the top spots, while Tokyo roars back into the top 10. Zurich was the only non-Asian city to make it into the top half of the list, while New York slipped from No. 7 to No. 9.
Here are travel tips from a real space tourist. The first tourist to travel to outer space loved every minute—even if he was physically miserable part of the time. His advice to future civilians in space: medicate early and often. Richard Garriott de Cayeux, the video game developer and entrepreneur, paid $30 million to Russia's Space Adventures to spend 12 days aboard the International Space Station. "It feels sort of like lying on a children's slide, head down. In the first days, you get very stuffed up and have a bit of a headache," he said.
Before it's here, it's on the Bloomberg Terminal.
LEARN MORE