Photographer: SeongJoon Cho
Your Evening Briefing
Here are today's top stories
Bloomberg News
The evening briefing will soon be available in your inbox every day. To be among the first to get it, sign up here. 

The world's fifth-tallest tower is about to open for business, showing off the highest glass floor in a building and the highest swimming pool. But has Seoul's 123-story Lotte World Tower fallen victim to the "skyscraper curse"? South Korea is in the midst of a slowdown, lending credence to the so-called curse, which suggests the completion of record-setting skyscrapers coincides with economic downturns. The building is in good company: New York's Empire State Building debuted during the Great Depression; Malaysia's Petronas Towers were finished during the Asian financial crisis of the late '90s; and Dubai's Burj Khalifa opened in 2010 as the property market collapsed. —Kristine Servando
Asia dominates new list of the world's costliest cities. Singapore and Hong Kong have held onto the top spots, while Tokyo roars back into the Top 10. Zurich was the only non-Asian city to make it into the top half of the list, while New York slipped from No. 7 to No. 9.
Watch out, Siri, here comes Samsung's Bixby. The new digital assistant on the upcoming Galaxy S8 will study user activity to offer helpful tips and information, and will work in tandem with apps such as Pinterest and Amazon to draw out information, developers say. Samsung's banking on features like artificial intelligence to take on Apple's iPhone and to bounce back from the battery crisis that killed off its Note 7 range.
Rookie traders could be partly to blame for flash crashes that have roiled the $5.1 trillion-a-day currency market during the past two years, according to a note deep inside a Bank for International Settlements report. In one particularly worrying case, when the pound plunged 9 percent in a matter of minutes in October, "less experienced" traders, handicapped by a limited knowledge of which algorithms to use, had "amplified" the rout, BIS concluded.
Find a new surfing hotspot, boost the economy. Discovering an unspoiled surfers' paradise could drive up local economic growth by 2.2 percentage points a year, according to a new study. The hordes which inevitably follow the most trendsetting surfers have a dramatic effect on the local economies, and surf breaks could even be used as a way to create jobs and reduce poverty, researchers say.
This wonder material could give us spray-on solar. Imagine a future when solar cells can be sprayed or printed onto the windows of skyscrapers or atop SUVs. Researchers and company executives believe there's a good chance the economics of the $42 billion industry will soon be disrupted by something called perovskites, a range of materials that can be easily applied to surfaces and used to harvest light.

How much will you need to retire? Well, two in five Americans say $1 million. And if you're guessing at a figure, you're in good company. Only 41 percent of workers have even tried to ascertain how much they'll need in savings to put their feet up, comfortably. A common refrain when asked about how they'll fix a savings shortfall is to work longer.
Want to see the world's greatest sights in just 29 days? Well, if you've got $159,000 this private jet "air cruise" may be the thing for you. The tour promises to zip you through places like Easter Island, Lhasa, Uluru, Jaipur, Victoria Falls and Prague, with neither a cruise ship nor economy-class cabin in sight. Happy holidays.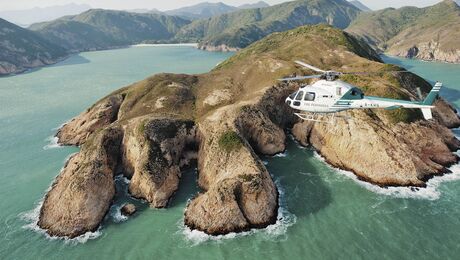 Source: The Peninsula Hotels