U.S. Businesses See Signs of Protectionist Shift in Indonesia
By and
Indonesia imposing non-tariff barriers, former ambassador says

Trade official says import rules favor local producers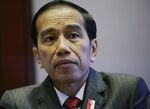 U.S. businesses are sensing a shift toward more protectionist policies in Indonesia in recent months even as President Joko Widodo is seeking to lure foreign investment into Southeast Asia's biggest economy.
Michael Michalak, regional managing director of the U.S.-Asean Business Council, said Indonesia's government has imposed non-tariff barriers on agricultural goods such as corn, and other U.S. imports, a source of frustration for U.S. businesses. That contrasts with the freer trade stance in other countries in the Association of Southeast Asian Nations, including Vietnam and the Philippines, he said.
"We thought they were going great guns on the liberalizing direction, but I don't know what happened," Michalak, a former U.S. ambassador to Vietnam, said on the sidelines of a business conference in Singapore. "I think that's just the pendulum swinging back."
Jokowi, as the Indonesian president is known, took office in 2014 with a reform agenda aimed at boosting investment and lifting the economic growth rate to 7 percent. At the same time, he's sought to protect and grow domestic industries by expanding rules requiring foreign companies to use local content in production of goods from smartphones to cars, while imposing restrictions on foreign mining companies.

Oke Nurwan, director general of foreign trade at Indonesia's Trade Ministry, said local policies don't amount to protectionism even though he said the government favors its domestic industries over imports.
"Import permits for products that can be sourced domestically, need thorough reviews, especially for horticulture produce," he said. "But for some products that aren't sourced domestically and are needed, we will speed up the permits. There won't be any reviews." He cited manufacturing of tires for tractors as an example.
Digital Economy
In public remarks at the conference, Michalak said that Indonesia's government had been making "a lot of protectionist statements" on imports including those of corn and animal antibiotics, and imposing strict regulations on the development of the digital economy. He added that a number of reform policies already announced by the government "have stalled and are not moving anywhere."
"The word on the street is that Indonesia has gone slow and is very much slowing down the introduction of any new packages but it will try to implement some of the packages that had introduced in the past," he said. "We think that going forward we're going through a particularly rough patch with Indonesia."

In an interview this week, Finance Minister Sri Mulyani Indrawati made a plea for countries to resist protectionism and said the failure of global finance chiefs to robustly defend free trade at a Group of 20 meeting in Germany was disappointing.
Michalak said the protectionist turn appears to have started when Thomas Lembong was replaced as trade minister and moved to the investment promotion agency as part of Jokowi's cabinet reshuffle last year.
Before it's here, it's on the Bloomberg Terminal.
LEARN MORE