Trump's Trade Pick to Pursue Stronger Relationship With Taiwan
By and
USTR nominee reiterates U.S. will honor One-China policy

Says U.S. to enforce trade remedy laws over steel disputes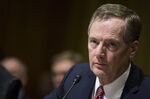 President Donald Trump's pick as his top trade negotiator said the U.S. plans to forge stronger ties with Taiwan, a move that could raise tensions with China.
"I intend to develop a trade and investment policy that promotes a stronger bilateral relationship with Taiwan," Robert Lighthizer, Trump's nominee as U.S. Trade Representative, said in written responses to questions from the Senate Finance Committee, which is deciding whether to recommend his confirmation.
The U.S. will "examine the prospect of additional negotiations with Taiwan," while seeking to address longstanding issues such as market access for U.S. beef and pork producers, said Lighthizer, who testified before the committee last week.
Taiwan's status has been a sensitive issue for the world's two biggest economies. The Chinese government enforces a "One-China policy" under which it considers Taiwan a breakaway province. China won't have diplomatic relations with countries that recognize Taiwan as a separate nation.
The U.S. risked a diplomatic rift with China after Trump tweeted about his protocol-breaking phone conversation with Taiwanese President Tsai Ing-wen in December, and subsequently questioned the One-China policy in interviews. Trump has also threatened higher tariffs on Chinese products, raising the risk of a trade war that could hurt global growth.
Tensions have cooled since Trump reaffirmed America's support for the One-China policy in his first call with Chinese President Xi Jinping last month.
One-China Policy
Lighthizer reiterated that the administration plans to honor the One-China policy. The U.S.'s trade with Taiwan totaled $67 billion in 2015, making it America's ninth-largest goods trading partner, according to the USTR.
"Recognizing that foreign investment from Taiwan and elsewhere can create more jobs in the United States and increase U.S. economic growth and competitiveness, I intend to develop a trade and investment policy that promotes foreign investment into the United States that advances these objectives," Lighthizer said.
Regarding Chinese exports of steel to the U.S., Lighthizer pledged to "vigorously enforce" trade remedy laws to deter the Chinese government from artificially lowering steel costs. He said he would use tools in the World Trade Organization and other institutions to combat what he believed were "distortive trade practices."
Lighthizer pledged to, if confirmed, address currency manipulation in future trade agreements, including the North American Free Trade Agreement, and said he was concerned that misaligned currencies could affect international trade.
Currency Manipulation

In line with previous claims made by Trump and his administration, Lighthizer said China was a "substantial" currency manipulator in the past, and claimed that the U.S. lost jobs because of the alleged manipulation. Lighthizer added that he believed other countries had also manipulated their currencies, but did not specify which ones.
On Nafta, Lighthizer reiterated his support of multiple administration priorities, including expanding U.S. agricultural exports and safeguarding American lumber interests.
As USTR, he will likely be a principal figure in the agreement's impending renegotiation with partners Mexico and Canada. He also said that he would like to address Canada's "low" bar at which certain imports fall under trade regulations, known as the de minimis threshold, which he said could be a significant issue in the U.S.-Canada bilateral relationship.
If the committee approves Lighthizer for USTR chief, his nomination will be sent for a full Senate vote.
Before it's here, it's on the Bloomberg Terminal.
LEARN MORE