Sturgeon Open to Alternative Timing on Scots Independence Vote
By
Scottish lawmakers debate plan to seek new vote by spring 2019

Parliament in Edinburgh expected to back move on Wednesday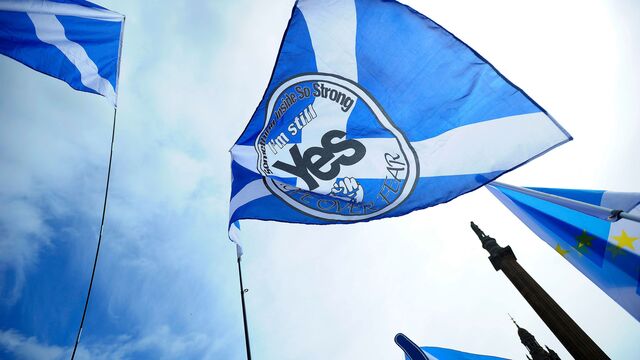 Scottish First Minister Nicola Sturgeon said she would discuss the timing of another independence referendum, though insisted the country has the right to chart its own future following the U.K.'s decision to leave the European Union.
In a speech to the Scottish Parliament on Tuesday, Sturgeon urged lawmakers to back her plan for a vote to take place before Brexit is implemented, something the U.K. government wants to avoid while it negotiates with the EU. The Edinburgh legislature is due to vote Wednesday on whether to seek the legal means to hold another plebiscite, with Sturgeon's Scottish National Party expected to prevail after the Green Party said it would back the motion.
Sturgeon, who wants to hold a vote by spring 2019, said she would be open to discussions on the timing if the U.K. presented "a clear alternative and the rationale for it." She added: "in the circumstances we now face, for the U.K. to stand in the way of Scotland having a choice would be wrong, unfair and unsustainable."

The debate comes a week before Prime Minister Theresa May triggers two years of talks to decide the terms of Britain's departure from the EU, which the majority of Scots oppose. The SNP has said independence now is the only way to safeguard Scotland's access to the single market and Sturgeon has been building the argument that the country is being sidelined again by the Conservative U.K. government in London.
Read More: Sturgeon evokes bitter memories from the 1980s
Ruth Davidson, who leads the Conservatives in Scotland, called it a "bulldozer" approach to holding the vote and questioned Sturgeon's claim she has the right to do so. The SNP's election manifesto last year stated it would seek a new independence vote should there be a "significant and material change" in circumstances such as the U.K. choosing Brexit against Scotland's will. Davidson said there needs to be clear support in Scotland for another vote.
"It's shown the number one priority of this government: separation not education," Davidson told parliament. "Believing something should happen if something else happens is not a clear mandate."
Before it's here, it's on the Bloomberg Terminal.
LEARN MORE