Puerto Rico Governor Is Set to Make the Case for Revising Utility Debt Deal
By and
New governor seeks deeper concessions from 2015 agreement

Clash heralds obstacles in move to cut government's total debt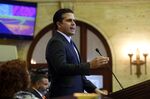 Puerto Rico Governor Ricardo Rossello told U.S. lawmakers that the agreement struck to cut the island electric utility's $9 billion debt should be renegotiated, despite objections from creditors reluctant to provide deeper concessions.
Rossello, who released a proposed revision Tuesday, defend his push to alter the 15-month-old deal before a panel of the House Natural Resources Committee in Washington. A group of bondholders including Franklin Advisers Inc. and OppenheimerFunds Inc. voiced opposition to redoing the pact after agreeing to take losses of 15 percent as part of the initial deal.
The governor said he's concerned about the impact the agreement will have on residents' electricity bills and questioned whether it will provide enough cash to modernize the struggling utility. He also cited "the failure of certain creditor groups to provide significant concessions."
The conflict over the first and only debt-restructuring agreement Puerto Rico has struck underscores Rossello's push for creditors to forgive a large swath of the island's $70 billion debt, which was issued by more than a dozen agencies and has sometimes competing claims to the island's cash. The magnitude of the territory's crisis led Congress to install an oversight board with the power to review the government's budget and any moves to restructure its debt.
Puerto Rico's bonds have tumbled since last week, when the federal oversight board approved Rossello's initial blueprint for steadying the island's finances after a series of record-setting defaults. That plan suggested that bondholders face steep losses because it leaves enough cash to cover less than a quarter of the debt payments due from 2018 to 2026, even after the government moves to cut spending and increase revenue.

Investors are balking at revisiting the utility deal. Stephen Spencer of Houlihan Lokey, an adviser to Franklin Advisers Inc. and OppenheimerFunds Inc., two big holders of Puerto Rico debt, said in testimony prepared for the hearing that reopening the utility agreement could adversely affect the island's ability to negotiate with all of its bondholders. A Puerto Rico electric utility bond due in 2038, one of its most actively traded securities, changed hands for an average of 56.1 cents on the dollar Tuesday.
"Failure to close a deal negotiated over two years would call into question Puerto Rico's good faith in negotiating other restructurings –- of great concern to Franklin and Oppenheimer, who hold over $6 billion of other Puerto Rico bonds," according to his prepared remarks.
Rossello only has until May 1 to reach an out of court settlement with all of the island's creditors before the legal stay that has shielded the island from most lawsuits lapses. If Rossello is unable to forge consensual agreements, Puerto Rico can enter into bankruptcy-like proceedings because of U.S. emergency rescue legislation that was enacted last year. That threat leaves Rossello with greater leverage over bondholders than his predecessor, Alejandro Garcia Padilla.
The government's proposal suggests the island may be seeking greater concessions from all creditors of the electric utility, including the companies that insure the agency's bonds such as MBIA Inc. and Assured Guaranty Ltd., according to Mark Palmer, an analyst with BTIG in New York who has been following the utility.
Under the current agreement, the insurers are sheltered from losses, and the utility depended on them to provide a surety bond to backstop the new debt that investors would receive under the pact in exchange for their current securities. The government's proposal this month suggested dropping that surety-bond provision, extending the payment period on the new bonds and no longer requiring them to be investment grade.
"They've effectively reduced the amount of leverage that MBIA and Assured Guaranty apparently have. In our opinion, that's a short-sided approach," according to BTIG analyst Mark Palmer. "They may be less willing to insure debt released by another entity, including general obligation bonds going forward. Puerto Rico may save more money by imposing a haircut on Assured Guaranty and MBIA in the short run, but they may be hurting themselves in the long run."
Greg Diamond, a spokesman for MBIA, declined to comment. Assured Guaranty spokesman Robert Tucker declined to comment. R. Sharon Smith, a spokesperson for Syncora Guarantee Inc., another insurer, declined to comment.
Before it's here, it's on the Bloomberg Terminal.
LEARN MORE