Mexico Populist Steals Investor Spotlight as Nafta Woes Ease
By and
Mexican assets vulnerable after recovering from Trump hit

Andres Manuel Lopez Obrador's populist stances cause concern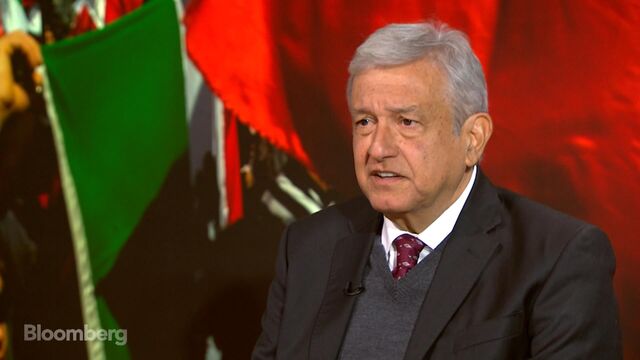 The calm that's settled over Mexico trading is at risk of getting upended.
With White House officials saying they're confident a trade deal can be reached to benefit both Mexico and the U.S., the peso has regained more than half of the losses it saw after Donald Trump's victory pushed it to record lows. Talks aren't expected until late this year, allowing investors to turn their attention to the next big risk for the Latin American country: a presidential win by opposition candidate Andres Manuel Lopez Obrador, known as Amlo.

Early polls show him in the lead or second place, but investors see a more reliable test of his prospects coming in June elections for the governorship of the State of Mexico, where his Morena party is vying to oust President Enrique Pena Nieto's PRI for the first time ever. A win for Morena would be a wake-up call for investors who have become too complacent and could send the peso tumbling 10 percent, according to Nomura Holdings Inc.
"If an opposition party were to win the election, it would send a strong signal that the political winds are changing," Benito Berber, Nomura's senior economist for Latin America, wrote in a note last week. "If Morena were to win the State of Mexico election, the probability of Amlo winning the 2018 presidential election would increase significantly."
That could spark a peso selloff and send the currency to as low as 21 per dollar if Lopez Obrador looks best positioned to win in the weeks leading up to the July 2018 vote for president, Berber said in an email.

The peso has gained about 9 percent this year and trades around 19 per dollar, making it the world's best performer and marking a reversal from a selloff in the wake of Trump's victory that sent the currency to 22 per dollar. Similar patterns also appeared in the bond and stock markets -- sharp drops after the election that have now been mostly erased. The currency fell 0.6 percent to 19.11 per dollar at 12:39 p.m. in New York.
A two-time presidential candidate and former mayor of Mexico City, Lopez Obrador, 63, has raised red flags for investors because of his promises to boost social-welfare spending and his opposition to allowing private investors in industries that have traditionally been run by the state, including oil.
The peso slumped when he appeared close to winning the presidency in 2006, and again during the 2012 campaign when a local newspaper poll showed him within a few percentage points of the eventual winner, Pena Nieto.
He's been one of the most prominent opponents of Mexico's landmark energy reform that ended a seven-decade state monopoly on crude drilling and has blamed "neoliberalism" for rampant inequality and violence in Mexico. The constitutional change was championed by Pena Nieto, who is barred from running again after serving six years in office.
In an interview last week, Lopez Obrador said he'll seek to reverse the energy reform legally and after holding a referendum.
"A lot of people, investors, are asking about this now," said Sergio Luna, the chief Mexico economist at Citibanamex. In a note to clients this month, Luna said investors' attention is already shifting from Trump and Nafta to the 2018 presidential elections.
Recent polls ahead of the State of Mexico vote show the candidate for Lopez Obrador's party, Delfina Gomez Alvarez, is tied for first place with Alfredo del Mazo Maza of the ruling Institutional Revolutionary Party and Josefina Vazquez Mota of the National Action Party.
Lopez Obrador's supporters say investors have the wrong idea about him. He'd respect contracts signed by private companies and support free trade with the U.S., his adviser Alfonso Romo told journalists last month. He'd also work to lower debt and ensure the central bank remains autonomous, Romo said.
And not all analysts view a Lopez Obrador victory as negative for the economy.
Scotiabank GBM strategists led by Andres Coello say that Amlo's party often points to Mexico City's AAA credit rating and a surge in foreign direct investment that coincided with his time as mayor, signaling an openness to pursuing policies favorable to investors.
The Trump administration doesn't appear too concerned about Lopez Obrador and the lift he's got from a growing backlash to rhetoric from Trump viewed as anti-Mexico. When White House Press Secretary Sean Spicer was asked whether he was worried that Trump's talk of a border wall might help Lopez Obrador win the presidency, he answered simply "no."
Investors are less sanguine.
"The 'America First' strategy of the Trump administration will reduce growth and investment in Mexico under all possible scenarios, and the strategy in question has emboldened Mexico's hard-left presidential candidate" Alberto Bernal, the chief strategist at XP Securities, wrote in a note to clients after meetings in Mexico City. "Amlo winning the 2018 presidential election is, by definition, bearish for the market."