Le Pen Employs Social Media Blitzkrieg to Amplify Debate Message
By
Anti-immigration candidate dwarfs rivals in follower numbers

The social media battle is the latest front in French election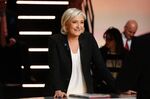 Marine Le Pen's army of web activists played a key role as the French election's first-ever pre-first-round debate took off: they saturated the "Patriot-sphere" with messages about her.  
With more than 2.5 million followers on Twitter and Facebook, the anti-immigration, anti-euro National Front candidate dwarfs rivals in online firepower. As the televised debate between the top five contenders to become the next French president began late Monday, her followers fired off thousands of posts to broadcast her comments far and wide in an attempt to reach new pools of voters, especially among the undecided youth.
"Marine is superb; she has the stature of a head of state," tweeted Van Helsing @okinhawaii, one of her online militants who said he's "proud to be French, a patriot and supporter of the National Front."
With about four weeks to go before the April 23 first round of the election, digital teams for the five candidates debating opened a new front in the fight for the presidency. Campaign teams of Le Pen, Republican Francois Fillon, independent Emmanuel Macron, Socialist Benoit Hamon and far-left Jean-Luc Melenchon sent strings of slogans, hashtags, videos, caricatures or fact-checking posts to online militants with the hope that some would go viral.
"This is our biggest operation so far in terms of mobilization," Gaetan Bertrand, the director of Le Pen's digital campaign, said in an email. "Our firepower is big, both on Twitter and Facebook." Her supporters have packed social media sites including the official #AuNomDuPeuple - or "in the name of the people" - and the unofficial #onestcheznous or "this is our home."
Direct Contact
At 11:30 pm on Monday, after almost two hours of debate, the National Front candidate was the second most cited name on Twitter and her Facebook promoted more than a dozen videos of her in the debate.
"Their goal is to influence the social network's software to win the battle," said Thierry Herrant, a partner at consultancy firm Equancy. "It's Le Pen's way of showing she is in direct contact with the people."
To reach her official goal to dominate trending topics, the Le Pen team even called on foreign "patriots" to join the battle, with the #World4Marine hashtag.
Multiple polls show both Le Pen, 48, and Macron, 39, currently with the support of about one-quarter of voters for the first-round ballot. Fillon stands at about 18 percent and Hamon and Melenchon at about 13 percent each.
Different Goals
The candidates have not engaged in the online battle with the same methods or goals. Le Pen set off the virtual war by calling on web activists -- ranging from Holocaust-deniers to duck farmers -- two days before the debate to take the fight online.
While her debate comment not to become "Merkel's vice-chancellor" was very popular within her community, Le Pen's more extreme followers blamed rival candidates of "anti-white" racism or brought back her father's historical slogan "France: love it or leave it."
Melenchon, the far-left candidate who just passed one million Twitter followers, and has widely used YouTube to spread his campaign message, asked the online community to be "unbowed" in posts on the debate.
"Social networks are divisive media, so it's normal that the most extreme candidates are those with the most followers," said Antoine Denry, managing director at Citigate Dewe Rogerson. "The audience is younger and consumes less mainstream media."
Create Chatter
For Fillon, the goal was to reach out to a base in disarray. The long-time politician, who's struggling with endless new revelations about his lifestyle, accepting gifts and by legal affairs, the debate was a chance to rebound. For the Republicans' nominee, who demonstrated during the primary debates his ability to come up with stinging punch lines, the social-media strategy is to become part of the post-debate discussion, his campaign officials said.
"We're not in it to win a hashtag battle," said his chief digital affairs adviser Jean-Baptiste Douat, although the campaign claimed victory in that race less than 10 minutes after that debate ended. "We're in this fight to win voters, to create chatter about Fillon after the television is off. In the context that surrounds him and with 35 days left to the vote, we need positive posts about him."
That hasn't stopped his supporters from streaming multiple posts and mocking videos about Macron, the centrist maverick who polls show may eject Fillon from the presidential race. Fillon's backers created "Ridicule TV," a YouTube channel to mock other candidates, the main target being Macron. The candidate, who claims to have an "e-force" of 5,000 active militants, took his rival and the youngest candidate as the main target with the #imposturemacron hashtag.
Grassroots Movement
Fillon, 63, is relying more on Facebook than Twitter, Douat said. Any Fillon material that the campaign or supporters share on Facebook gets ten times more visibility than on Twitter, he said. "Facebook is more personal and that's where conversations start," Douat said. 
The Republican, despite the disastrous news that has surrounded him since the end of January, is trying to replicate a grassroots movement that helped him seal a surprise victory in the November primary. Douat says he helped Fillon create Facebook communities in 2013, allowing him to engage with over 300,000 potential voters. 
Macron's team sees the 140-character Twitter as its social media of choice.
"We called for a support battle, not a fight. But Macron is constantly attacked so we're responding," said Aurore Berge, a social media specialist and member of the candidate's team.
Before it's here, it's on the Bloomberg Terminal.
LEARN MORE