Dutch Decisions: What Are Rutte's Options After Beating Wilders?
By and
81% chance Christian Democrats, D66 will be in government

Premier's Liberals won Dutch general election on March 15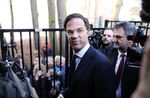 The Dutch voted and chose a clear leader: Prime Minister Mark Rutte. Winning was the easy part; now he has to find partners in a landscape that is more complicated than ever in which to form a new government.
With 13 parties in parliament, the highest number since 1972, Rutte has a lot to choose from, yet with neither the left nor the right dominating, it could take weeks and possibly even months before Rutte's third cabinet can be put in place.
Likely Coalition Partners
Geert Wilders's Freedom Party is the second largest party with 20 seats, but there is zero chance of him being in coalition after Rutte ruled him out weeks ago. Sybrand Buma's Christian Democrats and Alexander Pechtold's D66, followed by Jesse Klaver's Greens, are the most likely partners in Rutte's coalition, according to a Bloomberg analysis of the parties' campaign policies. That doesn't, though, take into account preferences announced by party leaders before and after the vote.
As informal talks got under way in The Hague Monday, Rutte said that the Christian Democrats and D66 have to form part of the new administration, while Pechtold said the Greens should also be in the coalition. Liberal Health Minister Edith Schippers spoke with all four leaders of those parties again Tuesday before reporting back to parliament later this week on the prospects for a new coalition.

Bloomberg collected over 100 policy positions for Dutch political parties across roughly 30 key election topics, from immigration and integration to pension age and taxes, to determine which possible coalitions have the most policy in common.
A coalition with an average policy overlap of 50 percent -- meaning all partners share half their respective policy positions with each other -- on average is seen as more cohesive and likelier to successfully complete a full four-year term than a coalition with a 40 percent overlap.

A stable coalition needs at least a combined 76 seats in the lower house of parliament to ensure it can get legislation through.
What are the Ideal Coalitions?
A coalition of at least four parties is needed to form a functioning government, and in an ideal situation this group also should have sufficient backing in the upper house.
According to the Bloomberg research, the Liberals, the Christian Democrats, D66 and the Greens would be a worthy match, with 85 combined seats and an average policy overlap of 49 percent across the issues analyzed. The parties' pro-Europe stances as well as their shared positions on raising the pension age to 67 and making fixed labor contracts more attractive by loosening rules on firing employees, could ultimately form part of the basis for such a coalition.
Klaver, though, said Tuesday that the Greens still have "mega-big" differences with the Liberals, according to the ANP newswire, though he added there had been no discussion of policy yet.
The Christian Union could be an alternative in a coalition including the Liberal Party, D66 and the Christian Democrats. They won five seats and would provide the slimmest possible majority in both chambers, though that coalition has a cohesiveness ranking that is more than 5 percentage points lower than the one with the Greens.
The coalition with the most in common includes Lodewijk Asscher's Labor Party and has more than 50 percent cohesiveness, though after the party's worst election result in history, Labor members called at the weekend for the party to go into opposition.
— With assistance by Anne Van Der Schoot, Hayley Warren, and Joost Akkermans
Before it's here, it's on the Bloomberg Terminal.
LEARN MORE