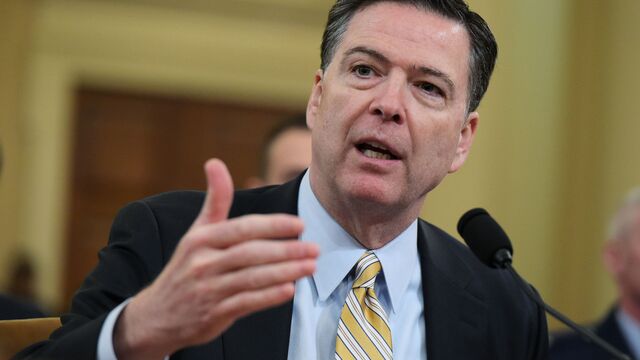 Want to receive this post in your inbox every afternoon? Sign up here.
Today is International Day of Happiness, but depending on who you ask, it might be more of a Day of Anxiety and Turmoil. "I have no information that supports those tweets and we have looked carefully inside the FBI," FBI Director James Comey told the House Intelligence Committee, regarding President Trump's wiretapping claims. Meanwhile, at another hearing, U.S. Supreme Court nominee Neil Gorsuch embarked on a mission to stick to a well-worn script. —Megan Hess
James Comey rejected Trump's wiretapping claims. The FBI director said there is no evidence to support Trump's allegations that the Obama administration "wiretapped" Trump Tower last year. During the same hearing with the House Intelligence Committee on Monday, he confirmed the FBI is conducting a broad investigation into Russia's efforts to "interfere" in the 2016 election.
Pulling the Brexit trigger. U.K. Prime Minister Theresa May will file divorce papers to leave the European Union on March 29, launching two years of complex negotiations that will pit the country's need for a trade deal against the bloc's view that Britain shouldn't benefit from Brexit. And that's just the beginning.
What Neil Gorsuch means for abortion. Trump's U.S. Supreme Court nominee goes before a Senate committee starting Monday as a heavy favorite, given Republican control, to win confirmation to a lifetime seat on the nation's highest court. His confirmation would reboot a 25-year campaign to chip away at abortion rights, though the landmark ruling of focus isn't Roe v. Wade — but its 1992 revision of sorts, Planned Parenthood v. Casey.
Apple's next big thing is AR. Tim Cook is betting on augmented reality, a cousin of VR that he believes will keep his company on top and may even supplant the iPhone. At some point, the CEO said last year, we will all "have AR experiences every day, almost like eating three meals a day. It will become that much a part of you." Investors impatient for Apple's next breakthrough will be happy to know that Cook is very serious about those plans.
Oil fell as U.S. drilling continues to climb and Libyan crude ports prepare to reopen, undermining the potential for OPEC output curbs to rebalance the market, even if extended into the second half of the year. U.S. oil this month dipped below $50 a barrel for the first time in 2017. For more news like this, sign up for our Forward Guidance newsletter, a daily breakdown of what's moving markets each morning.
The airports with the toughest landings. For a commercial airline pilot, some landings are a relative breeze—think airports with long, clear runways on flat land at sea level, with benign weather and modest traffic. But we're discussing the other kind. The U.S. airports where the approach and landing can regularly be a hassle: Aspen/Pitkin County, Juneau, New York's LaGuardia, Washington's Reagan National, and San Diego.
Porsche pockets a $17,250 profit on every car. Every time Porsche sells a 911 sports car or one of its Cayenne SUVs, it could take the profit alone and go buy a brand new Chevy Cruze. Part of that is simply price: Porsche doesn't make cheap cars. And make no mistake, customers are paying a premium for the brand's reputation.

Before it's here, it's on the Bloomberg Terminal.
LEARN MORE