Park Apologizes Before Questioning Over South Korea Scandal
By
South Korean leader was booted from office on March 10

Corruption scandal giving edge to opposition to win election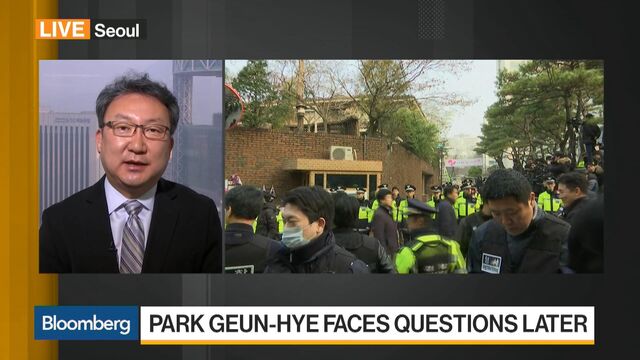 Former South Korean leader Park Geun-hye pledged to cooperate with investigators before facing hours of questioning for the first time over a corruption scandal that ended her presidency.
Park is expected to return home after the interrogation, which could continue until after midnight, Yonhap News reported, citing an unidentified person at the prosecutors' office. Flanked by two lawyers, she has responded to every question and her answers have been within authorities' expectations, according to the report.
"I apologize to the people," Park said earlier in front of hundreds of cameras after arriving at the prosecutors' office on Tuesday morning, her first comments in public since leaving office. "I will sincerely answer the questions." 
QuickTake Why South Korea's President Lost Her Job
Park is suspected of pressuring top business executives to donate tens of millions of dollars to foundations run by her friend Choi Soon-sil in return for government favors. The former president, who had immunity from prosecution while in office, apologized to the nation several times in the months prior to her ouster on March 10, while denying any wrongdoing.
Her early exit paved the way for an election to take place on May 9, with opposition candidates pledging to break up the cozy relationships between big business and government officials leading in polls. Prosecutors have handed out roughly 40 indictments in the case, including for Samsung Electronics Co. heir-apparent Jay Y. Lee, who has denied wrongdoing.
Earlier this month, South Korean special prosecutor Park Young-soo accused the former president of colluding with Choi to seek bribes from Lee in return for business favors. They also said she pressured a bank to promote an employee, and colluded with aides to block artists critical of her from receiving government funds.
Read about Korea's struggle to root out graft from its political system
Since Park's father was assassinated in 1979, nearly every president or their family members have faced graft allegations or spent time in prison. One, Roh Moo-hyun, committed suicide after prosecutors began a bribery probe.
A bipartisan committee of lawmakers is currently weighing proposals to amend the constitution in a way that reduces the power of the presidency. At the same time, efforts are moving ahead to rein in family-run conglomerates known as chaebol.
Read More: Moon Leads the Pack as South Korea Prepares for Special Election
Polls show Moon Jae-in, the runner up to Park in the 2012 election, set to win both a primary in early April and the presidential election a month later. Conservatives aligned with Park are beginning to rally around South Gyeongsang Province Governor Hong Joon-pyo, who declared his candidacy for her Liberty Korea Party over the weekend.