Malaysia Should Improve `Fragmented' Military, Honeywell Says
By
Government should reduce types of aircraft, ships, vehicles

China, piracy and border incursions among threats to country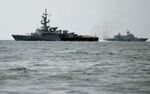 Malaysia needs to consolidate its defense hardware -- its ships and planes -- and improve communications to boost its defense capabilities as the country grapples with a variety of maritime threats, according to Honeywell Aerospace.
The main risks for the Southeast Asian nation include China's assertiveness in the disputed South China Sea, piracy, and border incursions by militant groups in Borneo, Mark Burgess, Asia Pacific vice president of defense and space at Honeywell Aerospace, said in an interview on March 15. While a large investment in defense isn't necessary, Malaysia should get more out of the assets it already owns, he said.
"It's too fragmented, there are too many different types of equipment," Burgess said of Malaysia's defense as military officials, manufacturers and suppliers from around the world meet this week at the Langkawi International Maritime and Aerospace Exhibition. "They need to consolidate and have fewer types of aircraft, ships and vehicles. And I think on the command and control side, communication is really integral."
Malaysia's defense budget for this year is the least since 2012, according to IHS Jane's, which said the 12 percent decline from 2016 was the largest cut made to defense in almost two decades. The government set aside 15 billion ringgit ($3.4 billion) of military spending this year, or 5.8 percent of the total annual public expenditure.
Burgess didn't specify what planes or ships in particular might no longer be necessary. Malaysia's naval fleet includes frigates, corvette warships, fast attack craft and two submarines.
Kidnappings, piracy
China claims more than 80 percent of the South China Sea, where it has constructed features on seven rocks and reefs and installed military facilities. Several Southeast Asian nations and Taiwan also claim parts of the area, through which more than $5 trillion of trade passes each year.
Kidnappings in the state of Sabah on Borneo island perpetrated by groups such as the Abu Sayyaf have kept Malaysian forces on edge. Air and naval surveillance are integral in policing the area around Borneo, Burgess said, adding it's important to have the ability for officials to communicate with one another rapidly, effectively and in real time.
Global defense contractors are circling for business in Asia, with countries from Australia to Vietnam upgrading and adding everything from submarines to fighter jets as China expands its military reach.
Japan, South Korea and Taiwan represent the biggest markets in the Asia-Pacific region for Honeywell's defense business, and Australia is growing fast with significant investments being undertaken, Burgess said.
Honeywell's current business in Malaysia is primarily in the commercial space, with helicopters. Southeast Asia doesn't represent significant growth opportunities, though the company is seeing some increase there and expects it to make up 10 percent to 15 percent of its regional revenue, Burgess said.
Before it's here, it's on the Bloomberg Terminal.
LEARN MORE