Germany, Japan Push Trade Pact in Merkel Bid to Stymie Trump
By
Abe in Germany says he'll help champion open markets

Two G-7 leaders display unity after both met U.S. president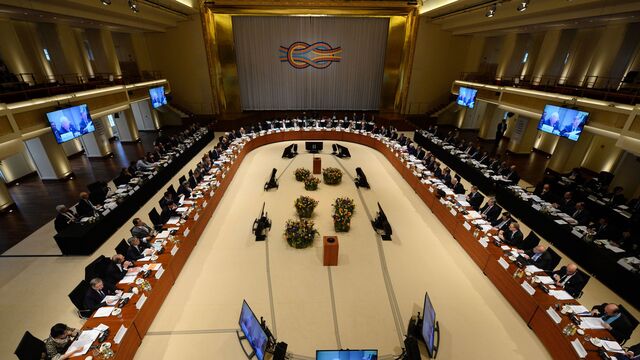 German Chancellor Angela Merkel and Japanese Prime Minister Shinzo Abe called for a concerted effort to defend free trade, expanding the list of economic powers joining together to counter the U.S. shift toward protectionism.
After clashing with President Donald Trump on economic policy at their first White House meeting, Merkel called for swift conclusion of a trade accord between Japan and the European Union. That followed a renewed German-Chinese commitment to open markets on the eve of her trip to Washington and Merkel's backing for a free-trade accord between the EU and Mercosur, the South American economic bloc.
"Internationally, we are seeing a tendency toward protectionism and navel-gazing," Abe said alongside Merkel during a news conference at the CeBit tech show in Hanover, Germany, on Monday. "What we need is trade that's both fair and free."
The display of German-Japanese unity underscores a rift elsewhere among the world's biggest economic powers after U.S. insistence on "fair" trade triggered conflict at a weekend meeting of Group of 20 finance chiefs in Germany. Another potential clash looms when Trump, Abe, Merkel and the leaders of Canada, France, Italy and the U.K. meet at a Group of Seven summit in Sicily in May.
Merkel pushed back against Trump's pledge to enact "America First" policies and drew contrast to Japan and Germany, the world's third and fourth-biggest economies.
"Of course we want fair markets, but we don't want to put up barriers," she said Sunday evening in a speech in Hanover. "At a time when we have to quarrel with many about free trade, open borders and democratic values, it's a good sign that Germany and Japan aren't quarreling about that."
Battle Lines
Abe, who met Trump in February, said he told the president that the U.S. must resume its leadership role. "Japan and Europe have to keep working together in a strong and united way -- and we have to bring the U.S. on board," he said at the tech show, where Japan is this year's featured country.
A commitment to free trade and defense spending are emerging as the first key dividing lines with the Trump administration, with Germany in the firing line on both counts. The U.S. and Germany traded barbs over the weekend over Trump's assertion on Twitter that "Germany owes vast sums of money" to NATO and the U.S. for defense.
The clashing views of trade were exposed when Trump told Merkel at a White House news conference on Friday that the U.S. had been treated "very, very unfairly" and said "negotiators for Germany" had bested their American counterparts.
Merkel Explains
Merkel replied with an explanation of how the EU conducts trade talks, saying it's the Brussels-based European Commission that negotiates on behalf of all 28 EU countries.
The U.S. stance is pushing China and Germany, the world's No. 1 and No. 3 exporters, closer, with Merkel and President Xi Jinping renewing their support for open markets in a phone call on Thursday, hours before she traveled to Washington, though Merkel said the timing was coincidental.
For a closer look at EU-China relations, click here.
Trump's complaint on trade reflects comments by the head of his National Trade Council, Peter Navarro, who has denounced Germany's trade surplus, accusing Europe's biggest economy of exploiting its position within the euro area to gain advantage. He was among those in the audience for the news conference. Merkel and her government have rejected those accusations as absurd.
"I don't believe in an isolationist policy, but I also believe that a policy of trade should be a fair policy," Trump said Friday.
Talks on an EU-Japan accord began in 2013 with the goal of lowering barriers to trade and investment on both sides. Japan and the EU jointly account for more than a third of global economic output, according to European Commission data.
Germany is ready to "be the motor" for completing the deal as a signal that "we want free, open markets," Merkel said Sunday.
Before it's here, it's on the Bloomberg Terminal.
LEARN MORE