French Candidates Spar Over Immigration, Money, Security
By , , and
Candidates speak in debate before first round of election

French debate touches on security, eductation, immigration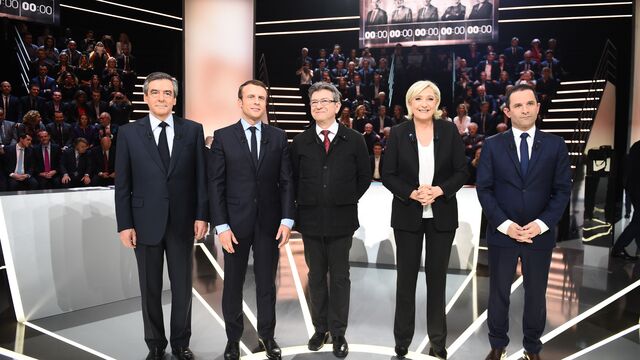 France's top five presidential candidates made clear their differences on issues ranging from security, money and immigration to the European Union in their first televised debate.
 
In an often heated exchange, the candidates attacked each other's positions, with Emmanuel Macron accusing Marine Le Pen of coming close to defaming him over the subject of money in politics. Francois Fillon characterized German Chancellor Angela Merkel's policy of opening borders to refugees as "bad," while Le Pen said she won't have France turn into a "vague region" of the EU.
"I deeply disagree with Macron about the policy he supports that is Merkel's policy that has proven to be a bad policy," Fillon says, adding that economic rather than political refugees have entered Europe.
Never before in a French election have multiple candidates confronted each other directly in a formal televised debate before the first round of voting. While a total of 11 candidates qualified for the April 23 ballot, six were excluded from the exercise on the grounds that they didn't command enough support.
Differing Positions
The stakes remain high with multiple polls showing that both Macron, a 39-year-old independent, and Le Pen, 48, of the National Front, currently with the support of about one-quarter of voters for the first-round ballot. Fillon stands at about 19 percent and Hamon and Melenchon at about 13 percent each.
The anti-euro National Front candidate Le Pen said she would bar all immigration -- "legal and illegal" to France. She also said she would add more police and security forces and expand prison places by 40,000 over five years, moves that Fillon said would add to France's debt burden and lead the country to bankruptcy.
"All this is going to lead to the bankruptcy I've warned about for years," he said, adding that "if we breach debt at 100 percent (of GDP), we're enter the red zone.""
Socialist Party candidate Benoit Hamon focused most of his time attacking Macron, accusing him of being vulnerable to business interests. For his part, the far-left candidate Jean-Luc Melenchon mocked much of what Le Pen had to say about immigration and religion.
Before it's here, it's on the Bloomberg Terminal.
LEARN MORE