Deutsche Bank Keeps Waiting for Growth After Slow Start to Year
By and
Economic recovery, rising rates to offset impact of disposals

Bank to return to normal compensation after slashing bonuses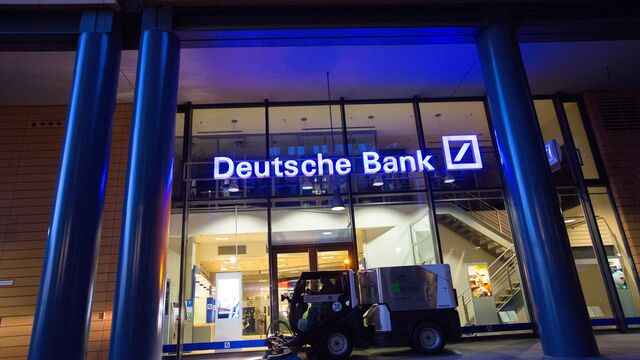 Deutsche Bank AG Chief Executive Officer John Cryan's pledge to return to modest growth may keep investors waiting.
Germany's biggest bank has seen revenue falling or little changed from last year across most of its businesses. For the full year, the lender expects revenue to be "broadly flat," it said in its annual report published Monday.
While an economic recovery in Europe, expectations for fiscal stimulus in the U.S. and rising interest rates should bolster the bank, "2017 will remain a year of change," Cryan said in the report.

Cryan, 56, is seeking to boost earnings after spending almost two years navigating legal probes and cutting back risk in the investment bank. In a strategic about-face announced this month, he said he would tap shareholders for new cash to rebuild capital buffers and abandon a planned sale of a German consumer-banking unit to help the bank to return to a "modest growth mode."
"Keeping group revenue stable is a realistic goal, especially since one of the biggest headwinds, the capital question, is out of the way," said Daniel Regli, an analyst at MainFirst whose recommendation on Deutsche Bank is under review. "Once the bank is recapitalized, regaining market share should be possible in global markets as it will catch up with its competitors."
Capital Increase
Deutsche Bank is raising 8 billion euros by issuing new shares at 11.65 euros apiece, the bank said Sunday, a discount of about 35 percent from Friday's close. The bank said previously that the move would boost its common equity Tier 1 ratio, a key benchmark of financial strength, to 14.1 percent from 11.9 percent at the end of 2016. It vowed to keep it "comfortably above" 13 percent.
In a prospectus for the offering, also published Monday, the bank said "segmental revenues" through mid-March are "slightly lower" than in the comparable period last year. Revenue was flat in equities sales and trading, while debt sales and trading as well as corporate finance are up from a year earlier, though by a smaller margin than in the first two months. Revenue in the private wealth and commercial clients unit is flat in the first two months of the year, and global transaction banking declined.
The bank extended losses, falling 4.4 percent at 11:47 a.m. in Frankfurt, the most in two weeks, as analysts including Andrew Coombs at Citigroup Inc. said the outlook appeared "cautious." The stock had rallied 69 percent from a record low on Sept. 26 through Friday, the second-best performer in the Bloomberg Europe 500 Banks and Financial Services Index.

Deutsche Bank slashed its bonus pool to 546 million euros ($587 million) last year, the lowest since at least 2009. Overall compensation fell to 8.9 billion euros from 10.5 billion euros a year earlier. The bank said Monday it it plans to return to a "normal compensation" program this year.
The trading unit has "seen strength in debt, particularly in credit markets" this year, Deutsche Bank said. "However, client flows in equities have been somewhat sluggish year to date, in part driven by muted volatility."
The lender this month named Chief Financial Officer Marcus Schenck as co-head of the reintegrated investment bank, the biggest unit by revenue, as it seeks to attract more business from corporations. The bank said it's "hopeful" that it will be able to recapture market share across its debt and equities divisions this year.
In asset management, which Cryan wants to take public under his new strategy, revenue is forecast to decline, the bank said. The lender is counting on selling a minority stake in the business to help raise about 2 billion euros on top of the capital increase. The bank plans to reintegrate the Deutsche Postbank AG unit after failing to find a buyer for that business.
New Phase
In asset management, "we expect net revenues to be lower than revenues in 2016 excluding the mark-to-market movements on policyholder positions in Abbey Life, following the sale of Abbey Life and Deutsche AM India businesses," the bank said.
Deutsche Bank said earlier this month that the new phase of its overhaul will cause the loss of additional jobs, without specifying how many. That comes after an announcement in 2015 that it would eliminate about 9,000 jobs by the end of 2018 to cut costs.
"Our progress should become even more visible once we resolve outstanding litigation matters, modernize our technology and further strengthen our controls," Cryan said in a letter to shareholders. "This will entail additional restructuring expenses."
The bank said in its report that the U.S. Department of Justice has closed a criminal inquiry into possible violations of federal law in connection with the foreign exchange markets.