markets
Oil May Be the Key to the Reflation Rally
By and
Oil drop brings sustainability of rally into question: Morris

Brent has almost halved its gains since Trump's election win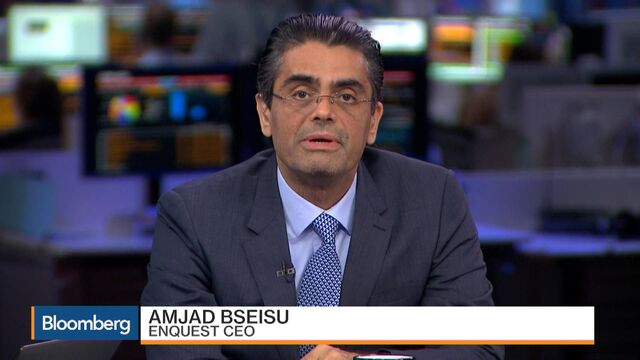 Throw out the tea leaves and the crystal ball. When it comes to divining the future of the reflation trade, investors should be keeping a close eye on oil.
Crude's bounce following the OPEC production deal in November underpinned many assumptions the market has about economic growth and inflation, says Daniel Morris, a senior investment strategist with BNP Paribas Investment Partners. But after surging to an almost 18-month high in January, Brent oil has wiped out the gains made after the output reduction pact as the group's aim to stabilize the global market is undermined by higher U.S. production.
"If you take the oil story away, then you start wondering how sustainable the reflation story is," Morris said by phone from London. "Lingering doubt" that the Organization of Petroleum Exporting Countries' cuts will be extended, along with rising U.S. output, is bringing oil's outlook into question, he said.

As a key cost for both consumers and industries in economies around the world, oil plays a pivotal role when it comes to global inflation expectations. That sentiment then feeds into the outlook for bond yields and equities, Morris said. Crude rallied along with shares and other commodities after Donald Trump's election ignited bets on fiscal spending-fueled growth. Since reaching a peak on Jan. 6, however, Brent has retreated 10 percent amid renewed anxiety over the prospects for global demand and supply.
Read more: Bullish Crude Bets Cut by Most Ever as Price Falls Below $50
"On one hand you had Trump and higher rates and stimulus and all that, and at the same time you've had the support from oil prices and so this is all part of the same narrative," Morris said. "It's very important what happens with oil."
Brent added 0.4 percent to $51.83 a barrel as of 2:32 p.m. Hong Kong time, below its $55.05 average price in 2017. West Texas Intermediate crude gained 0.3 percent to $48.36 per barrel.
Dagger Move
Crude prices and stocks have generally moved in the same direction over the past year, except for the divergence seen in the past few weeks, according to James Audiss, a senior wealth manager at Shaw and Partners Ltd. in Sydney, which oversees about A$10 billion ($7.7 billion).
"We've seen dagger moves in the past," Audiss said, referring to the shape made on a chart by a swift drop in an asset that is then quickly corrected. "It'll be interesting if we have a dagger move -- if that plays out in the next couple of weeks. That would be supportive of equities."
Read more: Slipping Oil Prices Imperil Global Reflation Rally, In Charts
BNP Paribas Investment's Morris said he doesn't have a "particularly bullish" outlook on commodities, which have fallen this year amid the drop in oil, a Bloomberg index of raw materials prices shows. The multi-asset solutions arm of BNP Paribas Investment is underweight equities after the 11 percent surge in U.S. stocks since Trump's victory. There are also some medium-term opportunities in emerging market shares and local-currency denominated debt, he said.
Read more: World's Biggest Hedge Fund Joins Pivot to Local Emerging Bonds
"There's a lot of hope that's been built into the market that may or may not be realized," Morris said. "There's certainly some vulnerability there to disappointment."
— With assistance by Ben Sharples
Before it's here, it's on the Bloomberg Terminal.
LEARN MORE