markets
Colonialism Gaffe Leaves South African Opposition at Crossroads
By
Zille to face Democratic Alliance disciplinary inquiry

Comments may cost party black support in 2019 elections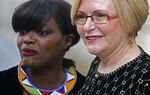 South Africa's main opposition party, Democratic Alliance, is in a quandary over whether to discipline its former leader, Helen Zille, after she appeared to defend colonialism in a Twitter posting. 
"For those claiming legacy of colonialism was only negative, think of our independent judiciary, transport, infrastructure, piped water etc," said Zille, who is premier of the DA-run Western Cape province. "Would we have had a transition into specialized health care and medication without colonial influence. Just be honest please."
Zille later apologized for her comments, but they offended many black South Africans whose ancestors lost their land and civil rights under colonial rule and continue to feel the effects of its legacy. While a failure to discipline Zille could frustrate the DA's ambitions of securing a greater share of the black vote in national elections in 2019, doing so could cost it the support of white and mixed-race voters in the Western Cape, where Zille has strong backing.
The DA won 27 percent of the vote in municipal elections in August last year, and together with other opposition parties seized control of several major cities, including the commercial hub of Johannesburg and the capital, Pretoria, from the ruling African National Congress.
"The DA needs to firmly distance itself from these comments," Keith Gotschalk, a retired politics lecturer, who taught at the University of the Western Cape, said by phone in Monday. "Zille is arguably the second-most powerful person in the party and being premier of the Western Cape gives her great standing. I'd be surprised if the DA would go so far as to order her to resign."
Mmusi Maimane, who succeeded Zille as DA leader in 2015, distanced himself from Zille's comments and ordered her to face an official inquiry. The matter is still being investigated, according to Glynnis Breytenbach, chairwoman of the DA's federal legal commission.
"No decision has yet been taken about charges," she said by phone. "Once the investigation is finalized, I forward the report to the leadership and they must decide whether there will be charges or not."
— With assistance by Arabile Gumede
Before it's here, it's on the Bloomberg Terminal.
LEARN MORE