Brexit Bulletin: 'Eat What's in Front of You'
Theresa May will be hoping for a better week this time around.
By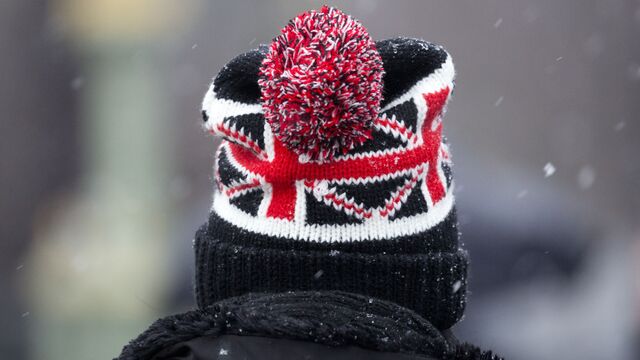 Sign up to receive the Brexit Bulletin in your inbox, and follow @Brexit on Twitter.
Is the European Union going hard just as Prime Minister Theresa May goes wobbly?
May heads to Wales today at the start of a British tour. She will hope this week is better than the last one.
The good news for May is that even amid calls for a Scottish independence referendum and a budget reversal, there's no prospect of a challenger to her rule from the main opposition Labour Party. Her pre-eminence will allow her drive towards a hard, clean Brexit to continue largely unchallenged.

The bad news is that the EU's negotiating position is becoming more entrenched just as May prepares to trigger two years of talks. That's reflected by an Ipsos MORI survey that reveals just four in 10 have confidence that the prime minister can get a good deal for Britain.
EU officials are ruling out any discussions with May over a post-Brexit trade deal until she agrees to settle financial commitments to the bloc, as Bloomberg's Ian Wishart, Jonathan Sterns and Heather Harris reported on Friday.
Even under the best-case scenario it may take until early 2018 to get that bill sorted. The Article 50 process decrees that Britain will exit the EU two years into the talks. That leaves May precious little time to line up a future trading relationship, and increases the chances that the U.K. will walk away from negotiations without a deal.
As Sandro Gozi, Italy's junior minister for European affairs, told Bloomberg's John Follain in Rome on Friday:
"We have to resolve the British budget issue straight away. The U.K. will have to respect and fulfill all its obligations as a member state until the last day and the last pound."
Even harsher was European Commission President Jean-Claude Juncker, who told Bild am Sontag that "in Europe, you eat what's in front of you or you don't sit at the table."
Asked to respond, Chancellor of the Exchequer Philip Hammond said the EU was just trying to establish a "negotiating position."

Weekend Wrap
Politico reported that British trade officials are exploring a 10-year interim arrangement with the EU in case a deal is not reached. The Financial Times reported Britain and Germany are set to sign a new defense cooperation deal.
The Sunday Express said May's team has discussed May 4 as a potential date for a snap general election, while former Prime Minister John Major used the Mail on Sunday to call for "Ultra Brexiteers" to stop "shouting down anyone with an opposing view." His successor Tony Blair said voters may discover the pain of Brexit is "substantial."
Scotland First Minister Nicola Sturgeon accused May of being intransigent on the timing of a referendum, and The Daily Telegraph said that ministers of departments charged with delivering Brexit are demanding extra money.
Parliamentary Burden
British lawmakers face having to pass as many as 15 legislative bills as well as deal with adding EU law to the U.K. statute, according to a new study from the Institute for Government.
Describing what it calls a "huge burden," the think tank said immigration, trade and agriculture are among the areas that will require fresh laws, leaving little time for anything not related to leaving the EU.
To give a sense of the task at hand, the institute said that in most years, about 20 new pieces of government legislation are unveiled during the Queen's speech. Brexit will require almost the same amount of work in less than two parliamentary sessions, it said.
Brexit Bullets
Irish PM Enda Kenny told Bloomberg he will block any agreement that doesn't keep open the borders between Northern Ireland and the Republic, saying: "We are not returning to the borders of the past." 
Group of 20 finance chiefs drop commitment to counter protectionism, at first meeting with new U.S. Treasury chief
London School of Economics professor Simon Djankov estimates a third of the U.K.'s EU-related banking business, or £8 billion in annual revenue, could relocate abroad if no free trade deal is struck
A House of Lords panel's report says advantages from cross-Europe judicial cooperation will be lost from Brexit
Trade Minister Greg Hands announces in Argentina that U.K. will revive financial support for British companies looking to operate in the country
Brexit Central compiles a list of the 50 groups who helped deliver the split
J Sainsbury CEO Mike Coupe said the economy will suffer if the rights of EU workers are not protected, Telegraph reports
About a third of euro-zone companies surveyed by UBS plan to cut back on investment in the U.K.
French presidential candidate Emmanuel Macron tells Bild he also wants no compromises in favor of the U.K. in Brexit talks
42 percent of U.K. businesses surveyed had more appetite to expand abroad after Brexit vote, according to Dubai Multi Commodities Centre
London property prices rebounded to an all-time high this month, reports Rightmove.
And Finally...
May is not the only female British prime minister inflaming passions in Scotland.
Rodney Jefferson and Thomas Penny report today how Scottish nationalists are invoking Margaret Thatcher as they clash with the U.K. over Scotland's future and the right to stage another independence vote because of Brexit. The narrative is that the nation is being suppressed again, disrespected by the latest incarnation of Thatcher's Conservatives running England. 

Memories of the "Iron Lady" who led Britain from 1979 to 1990 are woven into the nationalist psyche, and tales of job losses and strikes are passed on through the generations.
"Everyone knows what happened in those days: it was a sore time for a lot of people so they are still angry today," said Malcolm Mitchell, 24, an activist from Glasgow attending the Scottish National Party conference at the weekend.
"We've got our own Margaret Thatcher in Theresa May. She's filled that void."
For more on Brexit follow Bloomberg on Twitter, Facebook and Instagram, and see our full coverage at Bloomberg.com