Denmark Was Like Greece, Now It's Really Happy
By and
Denmark is free of non-krone debt for first time since 1834

High foreign reserves make dollar bonds unneeded, Danske says
One of the world's happiest nations just repaid all its foreign-currency debt. But just four decades ago, devaluation and economic sclerosis were the hallmarks of a much more miserable Denmark.
"In the early 1980s, Denmark was where Greece is now with an economy in crisis," Jens Naervig Pedersen, a senior analyst at Danske Bank A/S, said by phone. "Now, the country is among the absolute strongest with a record-high current account surplus and strong public finances."
Since the 19th century, Denmark has borrowed outside its borders to finance everything from wars against Germany to building railroads. Deficit spending grew so rapidly that by the late 1970s and early 1980s, Denmark was forced to devalue the krone to rebalance its economy.
It took a fixed-currency regime and economic reform to transform Denmark into the AAA-rated bastion of stability it is today. (Reforms included a so-called "potato cure," which saw curbs on consumer borrowing by making loans costlier). This week, Denmark repaid a $1.5 billion bond, ending all non-krone debt obligations for the first time in at least 183 years.

Denmark no longer needs to issue debt in dollars or euros thanks to its soaring foreign reserves, used to defend the krone's peg to the euro. At about 467 billion kroner ($67.5 billion), reserves are now well over double their level a decade ago.
Last month, the central bank sold 4.7 billion in kroner to weaken the currency, as political risk tied to the French election drove foreign investors to seek safety in Danish assets. Nordea Bank AB has said that political tensions in France could force Denmark to resort to even bigger interventions than were needed to offset flows triggered by Britain's vote to leave the EU last year.
Pedersen at Danske Bank says Denmark kept its foreign loans longer than needed, and may now be responding to the growing cost of issuing in dollars as interest rates rise.
In 2012, 2013 and 2014, the Danish debt office sold a dollar bond and swapped the dollars into euros. A planned foreign-currency bond sale was canceled in 2015 as reserves sky rocketed to fight an attack against Denmark's euro peg. (Speculators hoarded kroner, but the central bank dumped even more.) The debt office didn't schedule a sale in 2016 or this year.
The central government hasn't needed to borrow in foreign currency since March 2014, Lars Mayland Nielsen, head of the debt office at the central bank, said in an emailed reply to questions. Turning off the tap completely shouldn't cause any disruptions to borrowing should the Danes need to turn to international markets again, he said.
"Even though Denmark is not a frequent issuer in foreign currency we have access to the international capital markets should the need arise," Nielsen said. Denmark still has about 600 billion kroner of government bonds issued in Danish kroner, with about 40 percent of that held by foreigners.

Watch Next: Dutch Prime Minister Mark Rutte Keeps His Job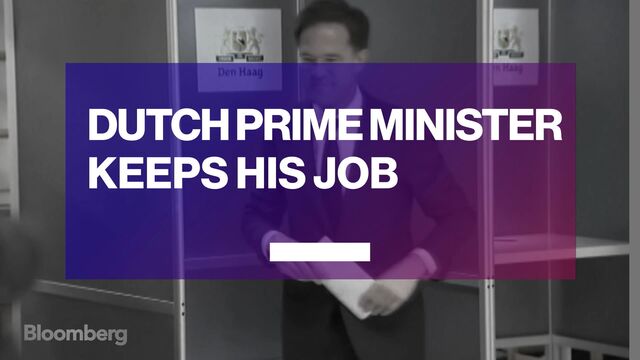 "We expect that Denmark will be able to stay in this rather strong position for a long time," Pedersen at Danske said.
— With assistance by Nicholas Rigillo
Before it's here, it's on the Bloomberg Terminal.
LEARN MORE