politics
Tillerson Reassures Xi on Trump Meeting in Brief China Trip
By
Leaders considering holding talks at Trump's Mar-a-Lago estate

Trade, North Korea tensions top tensions between U.S., China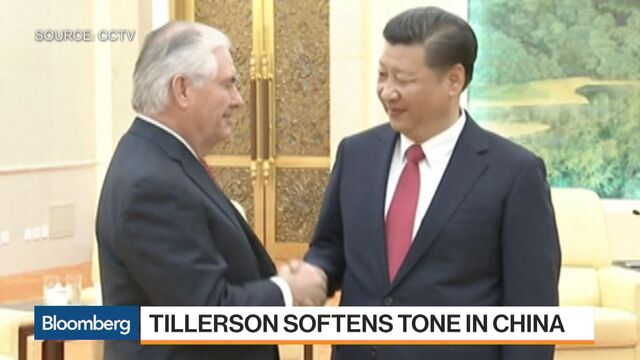 U.S. Secretary of State Rex Tillerson used a 24-hour trip to Beijing to smooth the way for an expected meeting next month between the leaders of the world's biggest economies, amid tensions over trade policy and North Korea.
After delivering a sharp warning about North Korea's nuclear program during earlier stops in Tokyo and Seoul, Tillerson's tone was more measured in meetings with Chinese officials including President Xi Jinping. At an event with Foreign Minister Wang Yi, he twice echoed Chinese phrasing directly, promising a relationship of "non-conflict, non-confrontation, mutual respect, and win-win cooperation."
For China, Tillerson's words will be seen as reassurance the U.S. isn't looking for a major shift in ties. Officials have been unsure about Washington's intentions after a series of tweets by President Donald Trump and his threats to punish China over its trade practices.
While the U.S. State Department said Tillerson's visit was focused on efforts to get China to do more to rein in its ally North Korea, a second goal was to lay the groundwork for a possible Xi visit in April to Trump's Mar-a-Lago club in Florida. And while Tillerson has interacted with senior diplomats before, the meetings were a chance for China to take the measure of a man who was one of the U.S.'s most prominent oil executives until a few months ago.
Tillerson is "still rather obscure" to Chinese diplomats, said Ruan Zongze, vice president of the China Institute of International Studies run by China's foreign ministry and an envoy to Washington between 2007 and 2011. "We want to know what his take is on some major issues. We hope to establish a smooth senior level diplomatic channel from the very beginning." 
In his first visit as secretary of state, Tillerson emphasized areas where the countries could work together instead of offering any critiques.
Speaking about the North Korean nuclear program in Seoul beforehand, Tillerson said Chinese moves to punish South Korea economically for its decision to deploy a U.S. missile-defense system were "troubling." He said Beijing should do more to enforce United Nations sanctions intended to punish Pyongyang for pursuing nuclear weapons.
In China, he said the countries agreed "things have reached a rather dangerous level" on the Korean peninsula.
Tillerson Doesn't Rule Out Preemptive Strike on North Korea
"We know that through further dialogue we will achieve a greater understanding that will lead to a strengthened, strengthening of the ties between China and the United States, and set the tone for our future relationship of cooperation," Tillerson said when he met Xi on Sunday.
Improved Ties
In Tillerson's meeting with Xi, reporters were allowed to linger for opening remarks. That was unusual for Xi, whose security agents normally hustle the media out of meetings with foreign officials after a minute or two.
"You have made a lot of active efforts to achieve a smooth transition in our relationship under the new era," Xi said. "I also appreciate your comment that the China-U.S. relationship can only be defined by cooperation and friendship."
While the comments were broad, they suggest ties have stabilized somewhat since Trump caused a furor by suggesting the U.S. may not recognize the "One-China" principle governing relations with Taiwan and accused China of not doing enough to curtail Kim Jong Un. On Sunday, Trump told reporters aboard Air Force One that Kim is behaving "very, very badly."
Significant issues remain, particularly on trade. Trump has repeatedly said Chinese trade practices are unfair, and the countries continue to spar over China's claim over uninhabited islands in the East China Sea also claimed by Japan, a U.S. treaty ally.
Trade Tensions
In a troubling sign for China's recent public advocacy of global trade, finance chiefs of the world's largest economies set aside a pledge to avoid protectionism and signed up to a fudged statement on trade, in response to the Trump administration's call to rethink the global order for commerce.
Group of 20 nations said in a communique on Saturday they are "working to strengthen the contribution of trade to our economies." While the U.S. didn't get all it wanted the statement was a pared-down version of the group's missive last year, omitting a promise to "avoid all forms of protectionism."
And while the U.S. believes the threat posed by North Korea's nuclear program is more urgent, Tillerson made clear more time was needed before China and the U.S. reach any agreement. In Seoul, he didn't rule out a preemptive strike against Kim's regime, which relies on China for most of its food and fuel.
Tillerson suggested Xi's visit could help China and the U.S. set out boundaries on where they're willing to compromise and where they will stand firm on competing interests.
"Tillerson is testing the bottom line of China," Ruan said. "The two leaders have to take a step back to rethink their strategies and reach a consensus."
Watch Next: Takeways From Rex Tillerson's Visit to Asia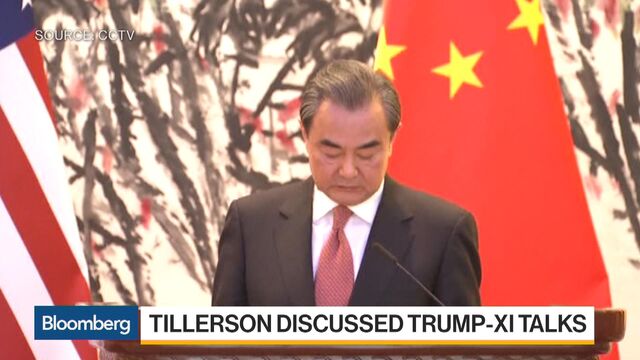 — With assistance by Ting Shi, and Keith Zhai
(
Updates with Trump comments in 12th paragraph.
)
Before it's here, it's on the Bloomberg Terminal.
LEARN MORE