China Shenhua Surges on Special Dividend After Profit Rises
By
Final 2016, special dividend combined for 2.97 yuan per share

China coal prices surged last year from mining output limits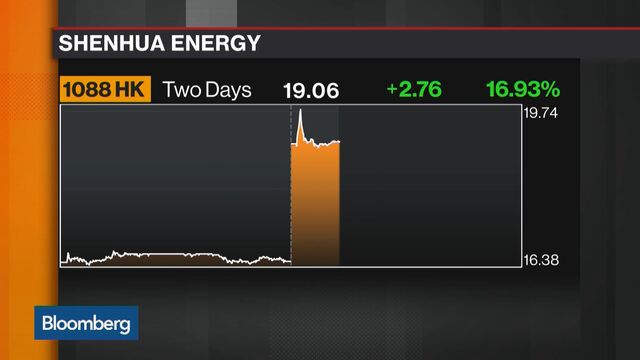 China Shenhua Energy Co., the biggest coal miner in the world's largest producer, jumped the most since 2008 after rewarding investors with a special dividend as it posted its first profit growth in four years.
Shares in Hong Kong closed 16 percent higher at HK$19.14, paring earlier gains of more than 20 percent. The city's benchmark Hang Seng Index added 0.8 percent.

The company proposed a final dividend of 0.46 yuan per share for 2016, as well as a special dividend of 2.51 yuan per share, it said in a statement late Friday.
"The scale of the special payout is startling and could be a bellwether for China's state-owned enterprises," Laban Yu, head of Asia oil and gas equity research at Jefferies Group LLC in Hong Kong, wrote in a note to clients Monday. "We believe initial market reaction will be overwhelmingly positive, although this does signal a lack of investment opportunity in China's coal industry."
Net income rose 41 percent to 24.9 billion yuan ($3.6 billion) last year, the Beijing-based company said in a separate filing to the Hong Kong stock exchange Friday. Shenhua, which also owns power plants and railroads, flagged the profit increase in January. Revenue expanded 3.4 percent to 183 billion yuan, with about half from coal and more than one-third from power.
Coal prices in China surged last year, snapping four years of declines, after the government ordered miners to reduce output as part of its effort to revitalize the industry and curb industrial overcapacity. That helped bump up the nation's benchmark power-station coal prices more than 70 percent, even as the measures were relaxed near the end of the year.
Shareholder Reward
"As a way to answer our shareholders' calls for higher dividend and increase our rewards to shareholders, we decided to issue this special dividend," Shenhua President Ling Wen said at a media briefing in Hong Kong on Monday. The cash payout won't have an impact on operations as the company expects lower investment growth and stable cash flows, Ling said.
There's no criteria that triggers a special dividend and future payouts depend on cash holdings, investment strategy, operational needs and other factors, Ling said. Shenhua will maintain its regular 40 percent dividend payout policy going forward, he said.
Shenhua's coal sales last year rose 6.6 percent to 394.9 million tons, almost entirely thermal coal, and commercial output advanced 3.2 percent to 289.8 million tons, with about two-thirds of that produced in Inner Mongolia, according to its filing. That compares with a 9.4 percent drop in China's total output because of the government limits.
China's thermal coal price may range between 500 yuan to 570 yuan per ton this year as government policies to balance demand and supply take effect, Shenhua Vice President Wang Jinli said at the same media briefing.
Output Limits
The company sold coal at an average price of 317 yuan a ton in 2016, up 8.2 percent year-on-year, according to its filing. It also said it booked 2.8 billion yuan of impairment charges, mainly on electricity generation assets.
The National Development and Reform Commission, the nation's top planner, said this month it doesn't intend to introduce output restrictions this year as long as prices stay in or above a range considered acceptable. Miners may keep a lid on production to sustain higher prices, analysts with North Square Blue Oak Ltd. and Argonaut Securities (Asia) Ltd. forecast.