Merkel, Abe Call for EU-Japan Deal to Stem Trade Barriers
By
Fair trade doesn't mean putting up barriers, Merkel says

Abe in Germany says he wants to help champion open markets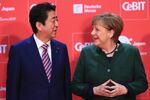 German Chancellor Angela Merkel and Japanese Prime Minister Shinzo Abe called for a concerted effort to defend free trade, saying global markets can be both open and fair.
Two days after U.S. President Donald Trump and Merkel held inconclusive talks at the White House, the German and Japanese leaders opened the CeBIT technology show in Hanover, Germany, by advocating a trade accord between Japan and the European Union as a way to underscore the benefits of an interconnected global economy.
"Of course we want fair markets, but we don't want to put up barriers," Merkel said in an apparent retort to Trump's pledge of enacting "America First" economic and trade policies. "At a time when we have to quarrel with many about free trade, open borders and democratic values, it's a good sign that Germany and Japan aren't quarreling about that."
Abe said Japan, having benefited from free trade and investment, "wants to be the champion of upholding open systems alongside Germany," though "it will be necessary to have rules that are fair and can stand up to democratic appraisal."
Talks on an EU-Japan accord began in 2013 with the goal of lowering barriers to trade and investment on both sides. Japan is the EU's second-biggest Asian trading partner after China, and together with the EU accounts for more than a third of global economic output, according to EU data.
Germany is ready to "be the motor" for completing the deal as a signal that "we want free, open markets," Merkel said.
(An earlier version corrected Japan's trade ranking with the EU.)
Before it's here, it's on the Bloomberg Terminal.
LEARN MORE