markets
KKR Pitches Plan to Resolve World's Highest Bad Asset Ratio
By
Apollo Global pegs India stressed debt at about $300 Billion

Bad debt issue has to be solved by the government: TPG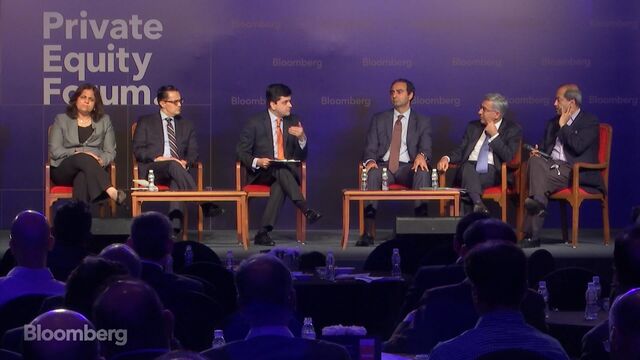 KKR & Co. has proposed a plan to help India's government clean-up the $180 billion of stressed assets that are weighing on the South Asian nation's banking system and economy.
Lenders should shift all soured debt above a certain limit to an agency that would be set up by the government and private capital must be used to revive these assets, Sanjay Nayar, chief executive officer for KKR's India unit said at a Bloomberg private equity forum in Mumbai on Friday. This will prevent "cherry picking" of assets that banks dispose off and the government can inject equity into state-controlled lenders to make good the losses, Nayar said, without providing more information about the plan.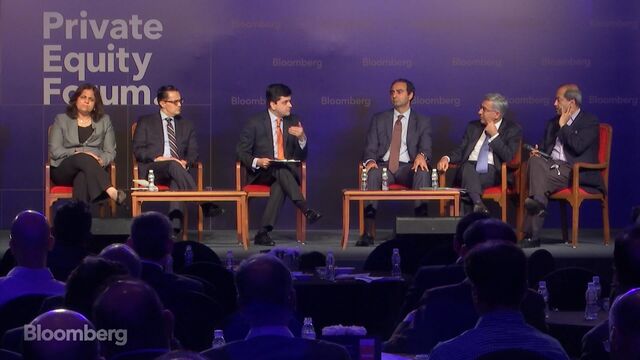 Calls for a state-run asset manager, an idea rejected by former central bank Governor Raghuram Rajan, are growing as India's stressed assets -- made up of bad loans, restructured debt and advances to companies that can't meet servicing requirements -- surge. They make up about 16.6 percent of total loans in India, the highest level among major economies, data compiled by the nation's Finance Ministry show.
"People don't appreciate how leveraged India is on the corporate level and how big the problem is," Mintoo Bhandari, senior partner and managing director at Apollo Global Management LLC in India, said at the PE forum. Bhandari pegs soured debt in Asia's third-largest economy at about $300 billion as almost half of the top 1,000 companies have unsustainable levels of debt.
The surge in bad debt can be traced to loans sanctioned early this decade, when optimism ran high that India could sustain a 9 percent or even 10 percent economic expansion amid a "super cycle" for commodities and emerging markets. Indian policymakers have unveiled at least three programs to reduce stressed assets in the banking system but they have had limited success.

Some of the rash of credit extended for infrastructure and power plants soured as growth slowed and projects were delayed. Local lenders including IDBI Bank Ltd., Indian Overseas Bank and Syndicate Bank have been downgraded by international credit assessors amid rising concern over bad debts.
Banks haven't managed to reduce stressed loans because lenders are reluctant to write down assets sufficiently, while founders of companies are not willing to accept "the true market value," Aisha De Sequeira, Morgan Stanley co-country head and head of investment banking in India, said at the forum. Credit Suisse Group AG estimates lenders will have to put aside at least 860 billion rupees ($13 billion) in the next 12 months to comply with higher central bank requirements for the older soured debt.
The stressed-assets issue "has to eventually land at the doorstep of the government," Puneet Bhatia, managing director and country head for TPG Capital in India said at the forum. "Banks need to be provided capital and have to create a facilitative kind of environmental backdrop. That is the only way to solve the problem."
To read a forecast on bad loans by India's biggest bank, click here
India's government is seeking to assure that they are resolving bad loans in an unbiased manner, while minimizing the equity that has to be infused into lenders and ensure that private capital is not taking anyone for a ride, said KKR's Nayar.
A "toolkit" to handle distressed assets is being readied, Nayar said. "We need a proper process to resolve the asset quality issues. We have provided them with some schematics and diagrams on that."
— With assistance by George Smith Alexander
(
Adds Morgan Stanley's comment in seventh paragraph.
)
Before it's here, it's on the Bloomberg Terminal.
LEARN MORE