markets
Hedge Funds, Goldman Rush Into Iceland as Krona Controls End
By and
Arion Bank was formed from Iceland's Kaupthing Bank in 2008

Investors privately buy stakes ahead of potential public sale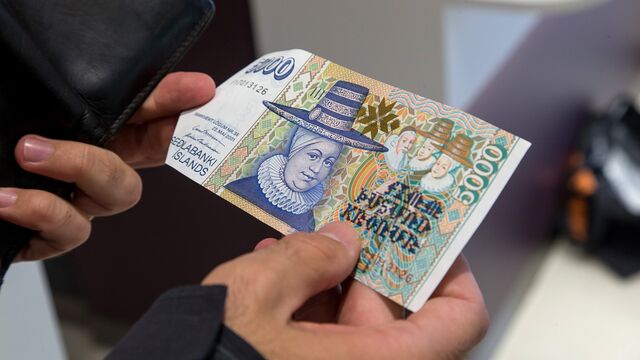 Less than a week after capital controls were lifted a bevy of hedge funds and Goldman Sachs Group Inc. piled back into Iceland by snapping up a 48.8 billion-kronur ($450 million) stake in one of its reconstituted banks.
Arion Bank, formed from Kaupthing Bank's domestic assets after crisis swept through the nation's financial system in 2008, said on Sunday that its largest shareholder sold almost 10 percent stakes each to hedge funds Attestor Capital and Taconic Capital Advisors UK, while entities affiliated with Och-Ziff Capital Management Group and Goldman Sachs bought 6.6 percent and 2.6 percent, respectively.
"This is a milestone in the settlement of the failed banks," Prime Minister Bjarni Benediktsson said in a telephone interview on Monday. "It shows that Iceland's economy enjoys trust when we have foreign investors putting money into the financial sector."
The purchase comes less than week after Iceland dismantled most of its remaining capital controls, which were imposed after Kaupthing and two other lenders collapsed under an $85 billion mountain of debt, sending the economy into a free fall. The government is still in a dispute with some U.S. funds holding an estimated 100 billion kronur in so-called offshore kronur that are being blocked from exiting country.
The purchase ensures that the Treasury gets a repayment on the 84 billion-krona bond that was issued at the end of the winding-up proceedings of Kaupthing, according to Benediktsson.
The deal "is the largest equity portfolio investment by foreign parties in Icelandic history," Paul Copely, chief executive officer at Kaupthing, said in the statement. Arion will most likely hold an initial public offering in the future, giving individuals and institutions in Iceland an opportunity to buy, he said.
The private placement cut the stake held by Kaupthing's Kaupskil subsidiary to 57.9 percent. The deal also granted the buyers an option to buy an additional 21.9 percent of Arion's outstanding shares at a higher price -- an option that can only be exercised prior to an initial public offering.
Read more on the lifting of capital controls
Arion was created after Kaupthing, unable to secure short-term funding, collapsed in October 2008. A year later, the unit was taken over by a resolution committee representing the bank's creditors. The Icelandic government retains a 13 percent stake.
Arion reported a profit of 21.7 billion kronur last year, down from 49.7 billion kronur in 2015. The bank had a Tier 1 capital ratio of 26.5 percent at the end of 2016.
Goldman made its investment through its ELQ Investors II subsidiary, according to the statement. Och-Ziff's was acquired by an affiliated entity, Sculptor Investments.
The prime minister said he had "no premise to evaluate" what plans the funds have for their stakes in the banks.
"But it's at least clear that these parties are financially strong," he said.
(
Updates with comments from PM in third paragraph.
)
Before it's here, it's on the Bloomberg Terminal.
LEARN MORE