Afghans Turn to Smugglers After Pakistan Border Quarrel
By
Border closure costing countries $4 million in daily trade

Pakistan has accused Afghanistan of habouring 'hostile forces'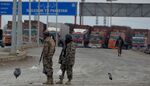 Afghans increasingly turned to smugglers after a month-long border closure with Pakistan blocked trade and caused food prices to soar after a bitter terrorism spat between the two neighbors.
While the border was reopened on Monday, more than 2,000 trucks were stranded with about $4 million lost in daily trade between the two nations, said Khanjan Alokozay, the deputy chairman of the Afghanistan Chamber of Commerce and Industry. While Pakistan's trade has been hit as it exports more to Afghanistan, its neighbor is suffering as it imports $2.5 billion of food and materials annually from Pakistan, he said.
Retailers in Kabul, the Afghan capital, said prices of fruit and vegetables sold at market doubled as they relied on illegal transporters, while the cost of rice rose as much as 30 percent.
The border closure was the worst since a two-week sealing in August. It undermined an already fragile relationship between the two countries, both of which accuse each other of harboring militant groups that carry out attacks. Following a series of suicide bombings across Pakistan, the military blamed "hostile forces" in Afghanistan and ordered a shut down of the 1,510 mile porous and disputed border.
That was followed by Pakistan's demand for Afghanistan to handover of 76 suspected militants. In response, the government in Kabul asked Islamabad to take action against 85 leaders of the Afghan Taliban, Haqqani Network and other groups it says uses the country for bases and safe refuge.
Porous Border
At face value, Pakistan's moves reflect concerns over Islamic militants crossing the border that has been disputed ever since Sir Mortimer Durand helped draw it up in 1893, when Britain ruled much of South Asia. Pakistan has also forced out 600,000 Afghan refugees since July, Human Rights Watch said in a report last month.
Afghanistan's concerns are also valid, according to U.S. General John W. Nicholson. While Pakistan has cracked down on some militants in recent years, the Taliban and Haqqani Network still use bases in Pakistan to launch attacks in Afghanistan, the NATO commander in Afghanistan told the U.S. Senate last month.
After a meeting between Sartaj Aziz, Pakistan's foreign affairs adviser and Afghanistan's national security adviser Hanif Atmar in London last week, Pakistan Prime Minister Nawaz Sharif ordered the border to be reopened, citing public and economic interest. He said in a statement that Afghanistan will take "necessary steps" to address the causes which led to the closure.
'Lucrative Crossings'
"Pakistan shouldn't shut the lucrative crossings for the sake of a political issue," Musafir Quqandi, a spokesman for the Afghan ministry of commerce and industries, said in an interview.
After traders resorted to the same routes as arms smugglers and insurgents to get perishable goods into Afghanistan, another closure would lead to higher food prices.
"Afghanistan heavily relies on Pakistan," said Ahmad Massoud, an economics professor at Kabul University.
— With assistance by Kamran Haider
Before it's here, it's on the Bloomberg Terminal.
LEARN MORE