Why May Still Dominates U.K. Scene, Despite `Week From Hell'
By
Tories unfazed by blunders on tax, election fines, U.S. ties

Tensions ahead over Brexit, if Conservatives fight themselves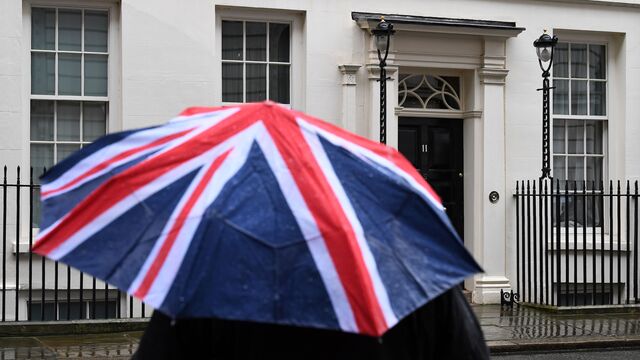 Theresa May should be having a miserable weekend after a catalog of blunders and political ambushes gave her the worst week she's had since replacing David Cameron as U.K. prime minister eight months ago.
In the space of five days, May faced a new demand for Scotland to hold a referendum on quitting the U.K.; a record fine on her Conservative Party from the election regulator; a key tax policy falling apart; and claims from the White House that Britain helped spy on President Donald Trump before his election.

To cap the week, former Chancellor of the Exchequer George Osborne -- who May fired when she took over -- announced on Friday he was becoming a newspaper editor and would be fearless in holding power to account. Osborne is seen as a critic of May's approach to Brexit, and his appointment to lead London's Evening Standard stunned May's aides and angered her allies.
In normal times, such a cocktail of political pain would constitute a crisis. Yet May's Conservative team are privately relaxed because there is no prospect of a threat to her rule from the main opposition Labour Party. This means May's drive towards a hard, clean Brexit remains largely unchallenged.
"This should be her week from hell," said Philip Cowley, professor of politics at Queen Mary University of London. "It should be really bad but the most striking thing is, it isn't really bad. She will have a glass of wine on a Friday night and go to bed perfectly relaxed because there is simply no effective opposition.''
Still Ahead
In spite of all this and growing doubt over her competence, the poll numbers are good. Four in 10 voters think she can pull off a good deal for Britain, as long as she stays focused on bringing down immigration as promised, according to an Ipsos MORI poll conducted March 10-14 of 1,032 adults.
May's Tories are as much as 19 percentage points ahead of Labour in the latest opinion polls. In the mid-term, such ratings would suggest she's on course for a landslide at the next election, with Jeremy Corbyn's party facing a wipe-out.
The poll rating is causing a restless minority within her party -- including former leader William Hague -- to contemplate an early vote to increase her small majority of 17. Some in May's closest team are already privately thinking ahead to the next time they have to go to the polls, though there is no appetite for it yet. That is because all the government's energies are focused on Brexit.
Speaking privately, one of the Conservatives' most senior members of Parliament said the party was willing to forgive the budget tax debacle but warned she could not afford too many more mistakes of this scale. Likewise, the row over Tory election spending, in which the premier's chief of staff is implicated, is absorbing too much attention, the official said.
May's office brushed off the turmoil of the past few days, pointing to the fact that she won her battle with lawmakers to pass her draft law authorizing the start of the Brexit process.
Trouble Brewing
"This week I'm sure history will record as a week when the prime minister secured Royal Assent for the bill which honors the wish of the British people to take us out of the European Union and build a new future," May's official spokesman James Slack said on Friday.
Yet despite her seemingly invincible position, May's victory on the Brexit bill carries a longer term danger.
In the next two weeks, May will formally tell the EU that Britain is leaving. Then, the hard work of negotiations will begin. Unraveling 40 years of EU membership to get a deal that protects trade while regaining control over migration will be so complex that May's team will have minimal time or resources to spend on anything else.
Tougher Stance
Underlining the difficulties ahead, EU officials this week toughened their negotiating stance by ruling out discussions with her over a post-Brexit trade deal until she agrees to cover her country's financial commitments to the bloc.
The realization has not yet dawned on many pro-Brexit Tories that the talks will involve painful choices about Britain's future, from EU citizens in the country to the exit bill.
One minister said Brexit backers were still delusional about how difficult negotiations would be. When these realities hit home, the Tories could fracture again. If this happens, May will wish she had a bigger majority in Parliament -- and might try to get one, according to John Curtice, professor of politics at the University of Strathclyde.
"The prime minister is leading a party which was divided about the merits of Brexit in the first place,'' Curtice said in an interview. "The risk she faces if the Brexit negotiations start to get difficult is that the split starts to re-emerge.''
Before it's here, it's on the Bloomberg Terminal.
LEARN MORE