Turns Out Populism Has Limits: Five Things We Learned This Week
The Fed lifted rates, the markets rallied anyway, and Robert Shiller has a reality check for you.
By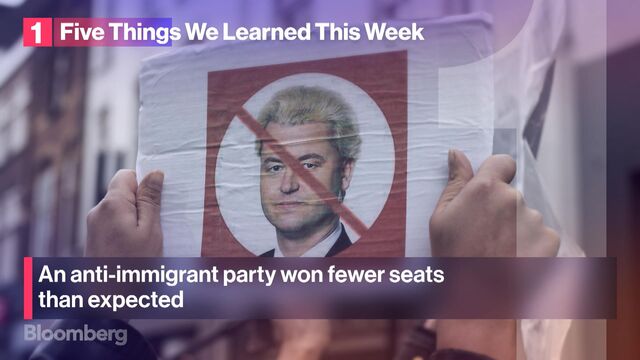 1) Populism Isn't Popular Everywhere
The establishment breathed a sigh of relief this week when a nationalist, anti-immigrant Dutch party won fewer seats than expected in the first major European election of 2017, breaking the pattern of surprise from populist victories in the U.K., U.S. and Italy. The Freedom Party, led by Geert Wilders, ran on a platform of leaving the European Union, abandoning the euro, and stopping all immigration by Muslims. After the results, French presidential candidate Marine Le Pen's odds in the betting markets plunged. France heads to the polls in April and May, followed by German elections in September. 

2) The Fed Isn't About to Pull a Big Surprise
The Federal Reserve has good reason to be dull. Its decisions about U.S. monetary policy touch nearly every aspect of the global economy. A debate over the words "considerable time" is, by Fed standards, scintillating. And yet markets — stocks, bonds, the U.S. dollar and, in turn, commodities — were jolted when the Fed on Wednesday stuck to its expectations of three interest-rate increases this year. Some speculated policy makers might add another expected increase to the calendar. Still, Fed Chair Janet Yellen wants to keep investors alert, Bloomberg News reported, to keep some risk in the mix to encourage growth.
3) Robert Shiller Has a Reality Check for You
Nobel Prize-winning economist Robert Shiller says the Trump rally reminds him of the feverish markets before the dot-com bust and the housing crash. Before those crises, traders thought some fundamental shift in the economy meant that the traditional measures of the value of companies and assets were obsolete. Now, investors are optimistic about President Donald Trump's promises to cut regulations and taxes and spend $1 trillion on infrastructure. "The market is way over-priced,'' Shiller said. "It's not as intellectual as people would think, or as economists would have you believe.''

4) Putin's Love for Immigrants
Trump may have a lot of love for President Vladimir Putin. But a Russian newspaper editorial recently said the U.S. president would be a member of the opposition in Russia, based on his anti-immigration stance. Russia has 11 million immigrants, according to a U.N. count, and they're helping the country recover from a prolonged recession. The unemployment rate is 5.6 percent, and immigrants provide cheap labor for jobs like street cleaning, kitchen service and retail. Two-thirds of the population support tighter immigration limits, but the government knows they're needed and says the country's safe, Bloomberg News reports. "The current visa regime and rules of entry guarantee a fairly high degree of security," says Ildar Gilmutdinov, who represents Putin's ruling party, United Russia. Life, however, is hard for the immigrants.

5) We're Eating Less Sugar and Salt Without Even Trying
Good news for your diet. Consumer-foods giants like Nestle and Procter & Gamble are helping us cut carbs and sodium by changing the ingredients in about 20 percent of their products. "The big consumer companies are responding to competitive pressures," said Peter Freedman, managing director of industry body Consumer Goods Forum. Healthy foods from smaller brands and tighter government rules, such as taxes on sugary drinks in the U.K. and Mexico, are spurring change. Nestle says it's even cut as much as 40 percent of the sugar in chocolate. (We're reserving judgment.)
Before it's here, it's on the Bloomberg Terminal.
LEARN MORE