business
PepsiCo CEO's Pay Rises 13% as Health Push Helps Boost Earnings
By , , and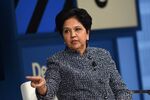 PepsiCo Inc. Chief Executive Officer Indra Nooyi received $29.8 million in compensation for 2016, a 13 percent increase, as efforts to steer the company's portfolio away from sugary products helped earnings.
Nooyi, 61, received $14.4 million in cash bonuses and $8.91 million in stock awards, according to a regulatory filing Friday. Her package also includes a $1.73 million salary. It's the fourth consecutive pay raise for Nooyi, who has been CEO since 2006.
The food-and-beverage giant has been working to meet consumers' growing demand for healthier products, generating 45 percent of its fourth-quarter revenue from from so-called guilt-free items, such as lower-calorie drinks. That's helping the company weather a decline in soda consumption, which reached its lowest level per capita in more than 30 years, according to trade publication Beverage Digest.
Shares of Purchase, New York-based PepsiCo rose 4.7 percent last year, compared with a 3.5 percent drop for rival Coca-Cola Co. The Standard & Poor's 500 Index gained 9.5 percent.
PepsiCo Chief Financial Officer Hugh Johnston received $10.3 million for 2016, and Al Carey, head of the company's North American market, got $10.1 million.
Before it's here, it's on the Bloomberg Terminal.
LEARN MORE