Morocco's King Names El-Otmani as New Premier to End Deadlock
By
Predecessor Benkirane ousted after failing to form government

El-Otmani is former foreign minister, member of PJD party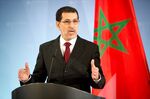 Morocco's king named Saaddine el-Otmani as the new prime minister, after his predecessor was fired this week for failing to form a coalition government five months after parliamentary elections.
King Mohammed VI tasked el-Otmani, a member of the same Islamist PJD party as the ousted Abdelilah Benkirane, with forming a new government, according to a palace statement carried by the state-run news agency MAP on Friday. The new prime minister was Morocco's foreign affairs minister in 2011 when the party came to power.
Morocco has been a rare model of stability in the region, which saw long-time rulers of Tunisia, Egypt and Libya toppled by the 2011 Arab Spring. The PJD came to power in the wake of the uprisings, and oversaw broad political reforms which included the delegation of some of the king's near-absolute powers to the prime minister.
Before it's here, it's on the Bloomberg Terminal.
LEARN MORE