Caisse Joins KKR in $4.3 Billion Deal for Onex's USI Insurance
By , , and
Buyout firm, pension manager start long-dated PE venture

Deal values insurance broker USI at $4.3 billion with debt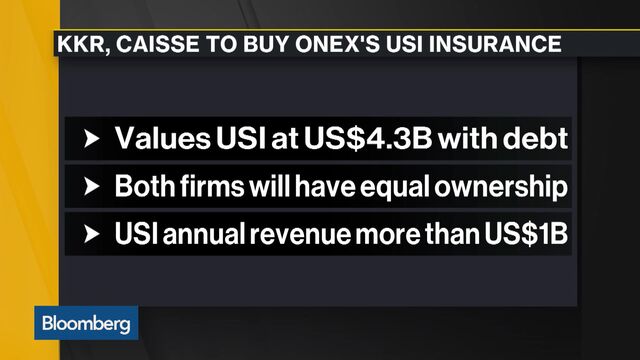 KKR & Co. and Caisse de Depot et Placement du Quebec agreed to buy Onex Corp.'s USI Insurance Services for about $2 billion as the acquirers partner to make long-dated private equity investments.
KKR and CDPQ, Canada's second-largest pension fund manager, will have equal ownership in the Valhalla, New York-based insurance broker, according to a statement Friday. The deal values USI at $4.3 billion including debt.
The acquirers also said they've established a partnership to make core private equity investments, or deals for stable companies they can hold for longer than the typical three- to five-year period in leveraged buyouts.
Private equity firms have long favored deals in insurance services, where capital expenditures and debt levels are typically low and cash flow is steady. KKR and CDPQ outbid others including buyout firms Carlyle Group LP and CVC Capital Partners for USI, according to people with knowledge of the process. Blackstone Group LP agreed last month to buy human-resources and benefits-administration platforms from broker Aon Plc for as much as $4.8 billion.
"Insurance is a defensive sector that generates a lot of cash and is relatively resilient to economic slowdowns and recessions," Roland Lescure, CDPQ's chief investment officer, said in a phone interview Friday. "The good thing about being a broker is that you are only an intermediary and you are not exposed to asset risk."
Longer Ownership
KKR's new partnership with CDPQ to make longer-hold investments reflects a wave of similar strategies by peers seeking to benefit from holdings that grow steadily and produce stable cash. Blackstone struck its first such deal in January, acquiring music-rights company SESAC Holdings, and Carlyle and CVC also have funds to make core private equity investments.
KKR co-founder Henry Kravis has lamented in the past that typical buyout fund structures don't allow for longer ownership, calling Warren Buffett's long-duration capabilities in Berkshire Hathaway Inc. "the perfect private equity model."
"The goal is to look for longer-term, defensive deals -- deals for which we are prepared to accept a little bit less leverage, a little bit smaller returns, because there is less risk and a greater resilience to economic slowdowns," Lescure said of the strategy with New York-based KKR. "There's no defined time horizon. Yes, it's probable that in five, seven or 10 years we will decide to sell this business and move on. But neither KKR nor we have the obligation to sell."
Onex, Canada's largest buyout firm, agreed to buy USI from a fund run by Goldman Sachs Group Inc. in 2012, in a transaction valued at $2.3 billion. USI has since made more than 30 acquisitions to increase its network across the U.S., according to data compiled by Bloomberg. Onex and partners made a $610 million equity investment in the initial deal, which is now valued at 3.4 times that amount, the firm said in a separate statement Friday.
KKR has a long history in the business too, leading an investor group that bought a predecessor to Willis Group Holdings Ltd. and then took the broker public in 2001. Former Willis Chief Executive Officer Joe Plumeri was hired by KKR as an adviser in 2013 to help find new deals.
USI, founded in 1994, now has more than $1 billion in annual revenue and 4,400 employees in 140 offices across the U.S., according to its website. It offers a portfolio of diversified insurance and financial services to its customers.