quicktake
How Mexico Could Respond to Trump's Border Plans
By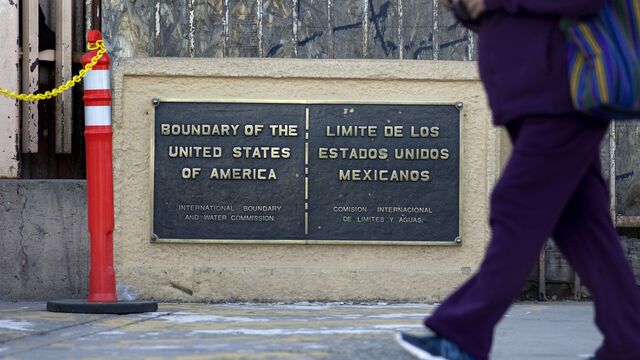 Candidate Donald Trump accused Mexicans of being rapists, of taking American jobs and bringing crime and drugs into the U.S. His language hasn't softened since he was sworn in as U.S. president: A border wall paid for by Mexico, tariffs aimed at Mexicans, and the delivery of undocumented immigrants back to Mexico — even if they're Hondurans or Guatemalans — remain part of Trump's governing agenda. But Mexico is hardly a powerless adversary.
1. What's the latest on Trump's promised wall?
He still pledges a "great wall" built along the 1,933-mile border between the U.S. and Mexico. He has insisted that Mexico will pay for it but in his latest budget proposal, he requests up to $2.6 billion in fiscal 2018 to spend on planning, designing and building it. (He has, at some point, suggested that Mexico will pay the U.S. "back") The bill would be pretty great as well, as construction estimates have ranged from $12 billion to $21.6 billion. Tensions over Trump's demands led Mexico's President Enrique Pena Nieto to cancel a meeting with Trump in January. Pena Nieto turned to Twitter to reassure Mexicans the country would not pay. Then both presidents agreed to stop publicly talking about who would pay for the wall.
2. How might Trump try to make Mexico pay?
His team appeared to float a 20 percent tax on imports from Mexico, which, based on the $316.4 billion total from 2015, would raise roughly $63 billion. But the White House swiftly walked back the idea. Besides, that would be a far cry from Mexico writing a check to cover construction. More likely, American consumers would pay the price by laying out more for everything from avocados to autos.
3. Could Mexico fight such a border tax?
It's considering retaliatory measures, including similar tariffs on U.S. goods imported by Mexico, which totaled $236 billion in 2015. And there have been calls to stop buying certain U.S. products, like corn, altogether. This could be devastating to American farmers since Mexico buys about 28 percent of all exports. (Brazil and Argentina would be delighted to pick up the farm-export slack.) Some argue that Mexico should take retaliation one step further and target products coming from states that were critical to Trump's victory.
4. Isn't all this a violation of Nafta?
Not exactly. Tariffs can be used, for example, as a retaliatory measure that is not in violation of Nafta. When Obama was still president, U.S. paper, batteries and grape makers, among others, were paying tariffs on exports to Mexico after the country retaliated for a U.S. ban on Mexican trucks. The conflict was later resolved. Now, either the U.S. or Mexico could pull out of the North American Free Trade Agreement with six months' notice - though no president has abandoned a trade treaty since the 1800s. This would just put Mexican import tariffs back to about 3 percent, the rate set by "most favored nation" rules within the World Trade Organization. While Trump has suggested he's willing to ignore WTO rules, this could result in many countries slapping tariffs on U.S. goods — basically, a global trade war. In the meantime, fewer Mexican companies — including tequila-makers — have been taking advantage of Nafta benefits, in part because of all the red tape.
5. Would Mexico walk away from the trade agreement?
It wouldn't want to, since its trade surplus with the U.S. is more than $60 billion. But Economy Minister Ildefonso Guajardo said that if the U.S. insists on tariffs, he'll stop negotiating changes to the accord. Some Mexicans think they'd be better off ditching it. "Buy Mexican Goods" has become a rallying cry among those who think the nation should focus on developing its own economy. The decline of the peso against the U.S. dollar of about 17 percent in 2016 means that even with tariffs, Mexican goods are still relatively cheap to Americans.
6. How much does Trump's deportation plan affect Mexico?
A lot, since more than half of the estimated 11.4 million unauthorized immigrants in the U.S. are Mexican-born. Though Trump's push won't be easy — it will require hiring 15,000 more border patrol and immigration enforcement agents — any crackdown will cut into the income Mexican immigrants send home. Remittances, mostly from the U.S., were $27 billion in 2016 and have represented between 2 and 3 percent of Mexico's GDP for the past decade.
7. How could Mexico retaliate on immigration?
It could stop patrolling its own borders and let illegal immigrants from farther south head toward America. In fiscal 2016, the majority of people seized trying to illegally cross the U.S. southern border weren't Mexicans, they were Central Americans. Mexico deported more than 140,000 from its own country in 2016, almost all from Guatemala, Honduras and El Salvador. As for Trump's plan to deport anyone caught crossing America's southern border to Mexico — regardless of where they are from — Mexican officials are signaling they will fight such an arrangement.
8. What other leverage does Mexico have?
Mexico sends more tourists to the U.S. — 18.4 million in 2015 — than any other nation but Canada, and they spend almost $20 billion. If Mexicans stayed home, Los Angeles, New York, Chicago, Las Vegas and Miami would feel the loss. In turn, about 26 million Americans visit Mexico each year and they're not now required to buy a visa. Then there are the almost 1 million Americans living in Mexico (some illegally), these are mostly retirees enjoying the sun, subsidized health care and cheaper cost of living. If things got really ugly, Mexico could seize assets held by U.S. firms, as it did to foreign oil companies in 1938.
The Reference Shelf
Before it's here, it's on the Bloomberg Terminal.
LEARN MORE