GOP Health Bill Threatens to Throw Free-Care Burden Back on Hospitals
By
Some hospitals holding back on expansion during uncertainty

Projected increase in uninsured would drive down profit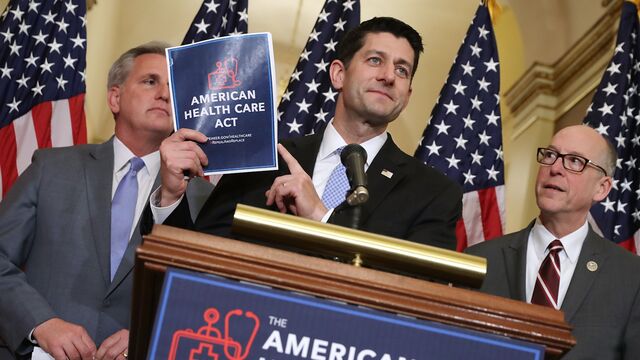 The Republican replacement for the Affordable Care Act revives an expensive problem for U.S. hospitals: Who pays for the uninsured?
Hospitals such as Tenet Healthcare Corp. and Community Health Systems Inc. have been on a roller-coaster since the inauguration of President Donald Trump, who said during his campaign that "everybody's got to be covered." The latest Republican bill to replace Obamacare would add millions of people to the uninsured rolls, however, and in turn would increase the amount of care that hospitals end up providing without getting paid for it.
Unlike insurers, drugmakers and other health-care companies, acute-care hospitals can't refuse to serve patients because of a lack of ability to pay. As the number of people without insurance fell under Obamacare, hospitals' uncompensated care costs dropped as well -- to $35.7 billion in 2015 from $45.9 billion in 2012, according to the American Hospital Association. 
Under the Republicans' bill, the nonpartisan Congressional Budget Office projects an increase of 24 million uninsured by 2026. That would send the uninsured rate for people under 65 to close to 20 percent, even higher than before Obamacare went into effect, as people lose Medicaid and private coverage. That doesn't mean those people won't need medical care, just that hospitals won't get paid for it when they do.
Balance Sheet Shift
"We're not going to make the health-care costs of these individuals go away, we're just going to move them back onto hospital balance sheets," Craig Garthwaite, an associate professor at Northwestern University's Kellogg School of Management, said in a telephone interview. "It's not like somehow not providing care to people saves money, it just shifts who ends up paying for it."
Hospital stocks began to falter in 2015 when it became clear that, while companies had taken reimbursement cuts as part of the ACA, the increases in coverage had likely maxed out. That was in part because 19 states declined to expand coverage under Medicaid, the program for the poor, and sign-ups for individual plans came in below the Obama administration's projections. The coverage expansions were paid for in part by cutting some payments to hospitals.
Community Health has fallen more than 80 percent since hitting its peak of about $52.71 in 2015, while Tenet has shed about two-thirds of its value since peaking close to $60 the same year as of Thursday's close. Community's shares lost 2.1 percent to $9.22 at 9:47 a.m. on Friday in New York, while Tenet fell less than 1 percent to $17.90.
Cuts Versus Coverage
Tenet declined to comment, and representatives of Community Health didn't respond to a request for comment.
"We've got 100 percent of the cuts that we expected and less than 100 percent of the coverage," Tenet Chief Executive Officer Trevor Fetter said Tuesday at the Barclay's Global Healthcare Conference in Miami. "So to the extent that that erodes further, we have concerns."

Hospitals would have benefited enormously with just slightly greater increases in coverage, said John Morrow, an analyst with Franklin Trust Ratings. They invest heavily in infrastructure and personnel, and once operating costs are covered, each new patient adds to their profit margin, he said.
If the ACA had come closer to its goals, "we'd be in a completely different place today," he said in a telephone interview. "The margins on hospitals would have continued to go soaring." 
Hospital companies' earnings before interest, taxes, depreciation and amortization could drop 6 percent under the projected increase in uninsured, according to an analysis by Bloomberg Intelligence. Companies are skittish about the future. Tenet is holding off on capital-investment projects that take four to five years from conception to completion because of uncertainty in the regulatory environment, Fetter said. 
For a QuickTake on why it's so hard to repeal Obamacare, click here
At Delta County Memorial Hospital in Colorado, unpaid patient bills dropped to 2.3 percent of total annual revenue in 2016 as Medicaid expanded, from 11 percent in 2011. With the threat of a Medicaid rollback, Delta also is putting off expansion, CEO Jason Cleckler said.
"It's risky to increase your debt right now," he said in a telephone interview.
Starting in 2020, the Republican bill would become increasingly credit negative for health-care companies as coverage becomes less affordable for more people, Moody's Investors Service said Friday in a report. The larger uninsured population and decreased federal Medicaid spending would take a toll on for-profit hospitals, pharmaceutical firms and medical-device makers, the ratings company said.
While hospitals were plagued with uncertainty before the Republican bill was introduced, it now looks even more dire, said Sheryl Skolnick, an analyst with Mizuho Securities. The bill's impact is "probably going to be worse than the prior worse case for hospitals," she said in a March 14 note to clients. "Hospitals had better hope, we think, that we're wrong and this thing doesn't pass."
Before it's here, it's on the Bloomberg Terminal.
LEARN MORE