business
Evening Standard Names Ex-U.K. Chancellor Osborne as Editor
By
Labour lawmakers accuse Conservative of betraying constituents

Osborne: 'I will speak for London and Londoners' through paper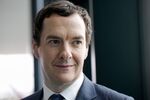 Former U.K. Chancellor of the Exchequer George Osborne has been named editor of the London Evening Standard, prompting consternation in the U.K. establishment and calls for him to stand down as a member of Parliament. 
Osborne already has an advisory role at BlackRock Inc., earning 650,000 pounds ($800,000) a year for four days a month. He will edit the Standard an average of four days a week, according to a statement Friday, while remaining in the House of Commons representing Tatton in northwest England.
The announcement was met with immediate objections from Labour politicians, who accused Osborne of a range of offenses -- from salary triple-dipping, to betraying his constituents in northwest England by taking the helm of a London mouthpiece, to gaining an unfair political advantage as a Conservative by using his editor's perch to criticize London's Labour mayor, Sadiq Khan.
"This appointment is bad news for the reputation of politics, journalism and the relationship between the two," Wes Streeting, a Labour MP from Ilford, said on Twitter. "At risk of never receiving favorable coverage in the Standard again, this is a real disservice to Tatton and to professional journalism."
Brexit Role
Osborne became chancellor in 2010 and was fired by British Prime Minister Theresa May in July 2016 after being accused by Brexit supporters of waging a fear campaign to keep Britain in the European Union. He replaces former editor Sarah Sands, who left the paper in January to head the BBC's flagship current affairs program "Today."
Osborne's appointment immediately raises the profile of the free London newspaper, which has seen its readership grow in recent years. He gains a platform for what Evgeny Lebedev, the Standard's owner, called a "socially liberal and economically pragmatic" political viewpoint, which he said matches that of its readers.
"I am proud to have an editor of such substance, who reinforces The Standard's standing and influence in London," Lebedev said on the Evening Standard's website.
Osborne suggested he could balance the interests of his constituents in Tatton, which voted with the majority of the U.K. last year to leave the European Union, with those of his readers in London, a majority of whom voted to stay. In the statement, he affirmed his commitment to the so-called Northern Powerhouse, an effort to spread the benefits of economic growth beyond the city and lessen the economic imbalance that feeds resentment of London.
"London needs a successful north and the north benefits from its links to a global city like London," Osborne said. "It's not a zero-sum game, but quite the opposite."
Balancing Act
The focus on the north was missing, though, from a video posted on the Standard's website: "Crucially though, people need to know this: I will speak for London and Londoners through this paper as its editor," Osborne said.
The ex-chancellor is not the first sitting Member of Parliament to edit a U.K. publication as Boris Johnson edited The Spectator from 1999 to 2005. Past editors of the Evening Standard include former Labour leader Michael Foot, though he wasn't a sitting lawmaker at the time.
Osborne wrote for the Daily Telegraph before entering Parliament in 2001. He was born in 1971, attended Oxford University and spent a semester at Davidson College in North Carolina before running for Parliament.
Labour politicians were happy to offer suggestions to resolve Osborne's perceived conflicts. Opposition lawmaker John Mann called on him to stand down as an MP. "He's taking the mickey out of the taxpayer," Mann said to Emma Barnett on BBC Radio 5 Live.
Ed Miliband, the former U.K. Labour leader, joked that he too had landed a new gig at a celebrity publication: "Breaking: I will shortly be announced as editor of Heat magazine," he tweeted.
— With assistance by Thomas Penny, and Andrew Atkinson
(
Updates with comment from Labour MP Streeting in fourth paragraph.
)
Before it's here, it's on the Bloomberg Terminal.
LEARN MORE