French Election Monitor: Dutch Rebuff of Populism Is No Gamechanger
By
Bond relief from Wilders' defeat in Dutch vote is fleeting

Investors cling to volatility hedges into April first round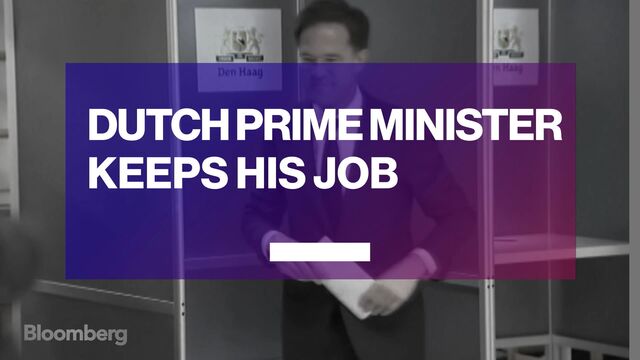 Anxiety about the French election persisted in stocks and bonds, despite a defeat of European populism in the Netherlands that was mainly symbolic.
Hedges against stock price swings into the first-round of the French vote on April 23 stayed elevated while anti-EU candidate Marine Le Pen held a lead over independent Emmanuel Macron. She still trails by a large margin in the second round in May in most polls. Dutch Freedom Party leader Geert Wilders' election loss was quickly dismissed by bondholders, who pushed up the yield they demand to lend to France relative to Germany over the week.
For more on the French election race, read this story.
Here's a look at indicators of market sentiment vis-à-vis the French election:

The premium investors demand to hold French bonds over bunds ended the week higher after briefly subsiding following the Dutch election result Thursday. The spread touched a 4 1/2 year high of 79 basis points on Feb. 21 as Le Pen's campaign gained traction.

The cost of insuring French debt with credit-default swaps relative to German debt is near the widest level this year.

Hedging activity for options into the first round of voting in April eased over the week although it continues to be elevated. Demand tapers off for contracts maturing in May.

In the options market, demand for the yen and Swiss franc fell against the euro. The common currency was underpinned as Macron held onto his second-round advantage. That followed the ECB's meeting on March 9 in which it nodded at improving growth and watered down an easing bias.

European credit markets are showing no signs of concern about a possible redenomination of French debt under Le Pen. Appetite for credit risk persists, with the spread between the iTraxx Senior and Subordinated financial indexes trading at a six-month low.

The cost of hedging against CAC 40 Index volatility in the next two months has reached a record relative to bets for swings in the Euro Stoxx 50 Index. With investors weary of the vote, the benchmark gauge for French equities is lagging behind the regional measure this year.
Before it's here, it's on the Bloomberg Terminal.
LEARN MORE