British Complain After Trump Spokesman Cites Wiretapping Report
By and
Multiple high-level government contacts after Spicer briefing

Press secretary cited Fox report U.K. calls 'nonsense'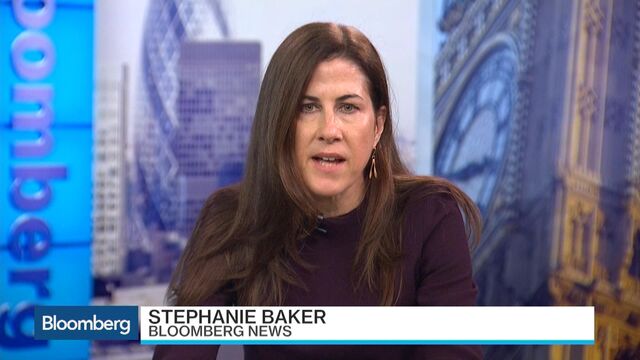 British officials complained to the White House Thursday after press secretary Sean Spicer cited a Fox News commentator's report claiming former President Barack Obama had enlisted U.K. intelligence to spy on President Donald Trump.
Andrew Napolitano, a legal pundit for Fox News who has advised the current president, claimed during a March 14 telecast that three intelligence sources told the network Obama personally appealed to the British Government Communications Headquarters, known as the GCHQ, to spy on Trump. Spicer highlighted the report in a list of media accounts he read to reporters during his briefing on Thursday, arguing that the stories helped validate the president's unsubstantiated allegation that his predecessor had surveilled him.

British officials have categorically denied Napolitano's reporting, and Spicer's decision to cite it from the White House podium threatened to strain relations between the transatlantic allies. 
One U.S. official familiar with the discussions said the British complained to the White House about Spicer giving a platform to Napolitano's remarks.
A second U.S. official confirmed there were multiple contacts between high levels of the U.K. and U.S. governments after Spicer's remarks. The official said the conversations have been friendly and not acrimonious and both nations are committed to ironing out the situation.
After Spicer's briefing on Thursday, the U.K. GCHQ issued a statement flatly dismissing the Fox pundit's reporting.
"Recent allegations made by media commentator Judge Andrew Napolitano about GCHQ being asked to conduct 'wire tapping' against the then President Elect are nonsense," the statement said. "They are utterly ridiculous and should be ignored."
The White House wouldn't confirm whether the British government asked for Spicer to retract his remarks, or whether it was under consideration.
Spicer's comments Thursday came after the top Republican and Democrat on the Senate Intelligence Committee said they had not seen any evidence to back up the president's allegations that Obama had spied on him.
"Based on the information available to us, we see no indications that Trump Tower was the subject of surveillance by any element of the United States government either before or after Election Day 2016," the panel's chairman, Richard Burr of North Carolina, and vice chairman, Mark Warner of Virginia, said in a joint statement Thursday.
The White House has said that Trump's initial claims, posted in a flurry of tweets earlier this month, should not be taken literally. Officials have said Trump did not necessarily mean Obama personally ordered the surveillance, that wiretapping could refer to a broad range of surveillance efforts, and that the effort may not have specifically targeted Trump Tower in New York.
Trump has so far refused to fully detail what evidence he's seen to support his allegation. In an interview with Fox News on Wednesday, Trump said he had based his tweets at least partially on media reports, but could release additional information to support his claims.
A spokesman for Obama has denied that he personally ordered surveillance against Trump.
The president's allegations are expected to dominate a March 20 House Intelligence Committee hearing with Federal Bureau of Investigation Director James Comey and National Security Agency Director Mike Rogers. The Justice Department also faces a deadline that day to turn over any evidence that the Obama Administration may have surveilled Trump.
— With assistance by Toluse Olorunnipa
Before it's here, it's on the Bloomberg Terminal.
LEARN MORE