Brexit Bulletin: Theresa May Has a New Soundbite
If not now for Scotland, then when?
By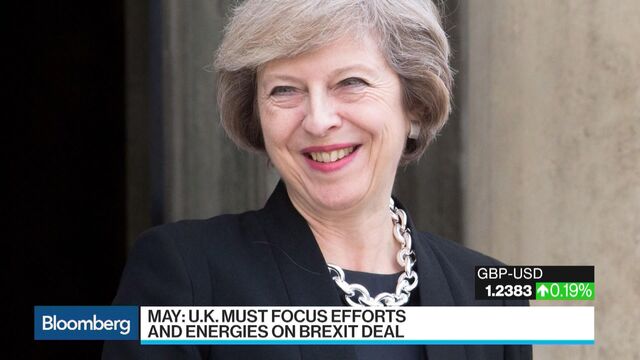 Sign up to receive the Brexit Bulletin in your inbox, and follow @Brexit on Twitter.
First came "Brexit Means Brexit." 
Then Theresa May declared there would be "no running commentary," and the "red, white and blue Brexit." Those classics have now been joined by "now is not the time."
That was how the prime minister responded to Scottish First Minister Nicola Sturgeon's call for another independence referendum. May wants Scotland to see the shape of the final Brexit deal. Today she will pledge to forge an even closer union. Sturgeon wants the power to call a vote by spring 2019 "before it is too late to choose an alternative path." May's thinking is different. The Daily Telegraph reports today that it could take six years for a ballot to be called. 

Brexit goes to the heart of May's balancing act.
Another referendum would leave May fighting to keep Scotland while trying to reach a Brexit deal. Yet blocking a vote risks boosting the independence movement, which could also gain if exit talks with the EU turn tricky.
The argument echoes the Brexit referendum, according to Nicola McEwen, professor of politics at Edinburgh University. Last year's call by Brexit campaigners to "take back control" is also now sounded by the Scottish.
"The prime minister is having to use contradictory arguments to confront two different types of challenge – and perhaps indicative of why she'd really rather deal with one at a time," said McEwen.
Today Rodney Jefferson and Lukanyo Mnyanda report on the thinking in Edinburgh, Scotland's political and financial capital, where a vast majority rejected both Scottish independence in 2014 and Brexit in 2016. 
The Scottish issue overshadowed the Queen's signing into law of the legislation enables May to start Brexit whenever she wants. Tim Ross and Ian Wishart have the latest on the outlook for talks, and why an early trigger is handing the initiative to Brussels. 
Bullish Business
May did get a fillip from the business community she needs to keep on her side through the Brexit process.
Toyota said it plans to spend £240 million on upgrading its U.K. carmaking plant in a sign it will keep investing in Britain, with Johan van Zyl, CEO of Toyota Motor Europe, saying they are "very focused" on Europe.

However, he warned that "continued tariff-and-barrier free market access between the U.K. and Europe that is predictable and uncomplicated will be vital for future success."
M&C Saatchi, the global ad agency, was even more bullish, saying its competitors may be overplaying the negative impacts of Brexit as it enjoys growing revenue in the U.K. The company's like-for-like U.K. sales grew 5 percent in 2016 to £88.5 million pounds.
"Clients aren't saying 'Oh my God, Article 50 is going to be triggered, we must slash our spend,"' CEO David Kershaw said. "I don't see why one should get into a dark mood about it."
Morgan Stanley strategists also released a report saying there's "little evidence" to suggest that the U.K. consumer is about to "break," with a survey of 1,000 consumers finding little "buyer's remorse" over Brexit. More than 90 percent of respondents said they would still vote the same way.
PriceWaterhouseCoopers is less upbeat. It predicts today that consumer spending growth will moderate to 1.7 percent in 2018 from 3 percent this year. Clothing and food sectors are vulnerable to a fall in sterling, it said. On Thursday J Sainsbury said it is cutting costs in an effort to avoid raising prices.
Brexit also will hurt business investment, according to a report by the Institute of Chartered Accountants that said investment will shrink by 1.9 percent this year.
The Man Who Would Stop Brexit
Tax lawyer Jolyon Maugham is not taking Brexit for an answer.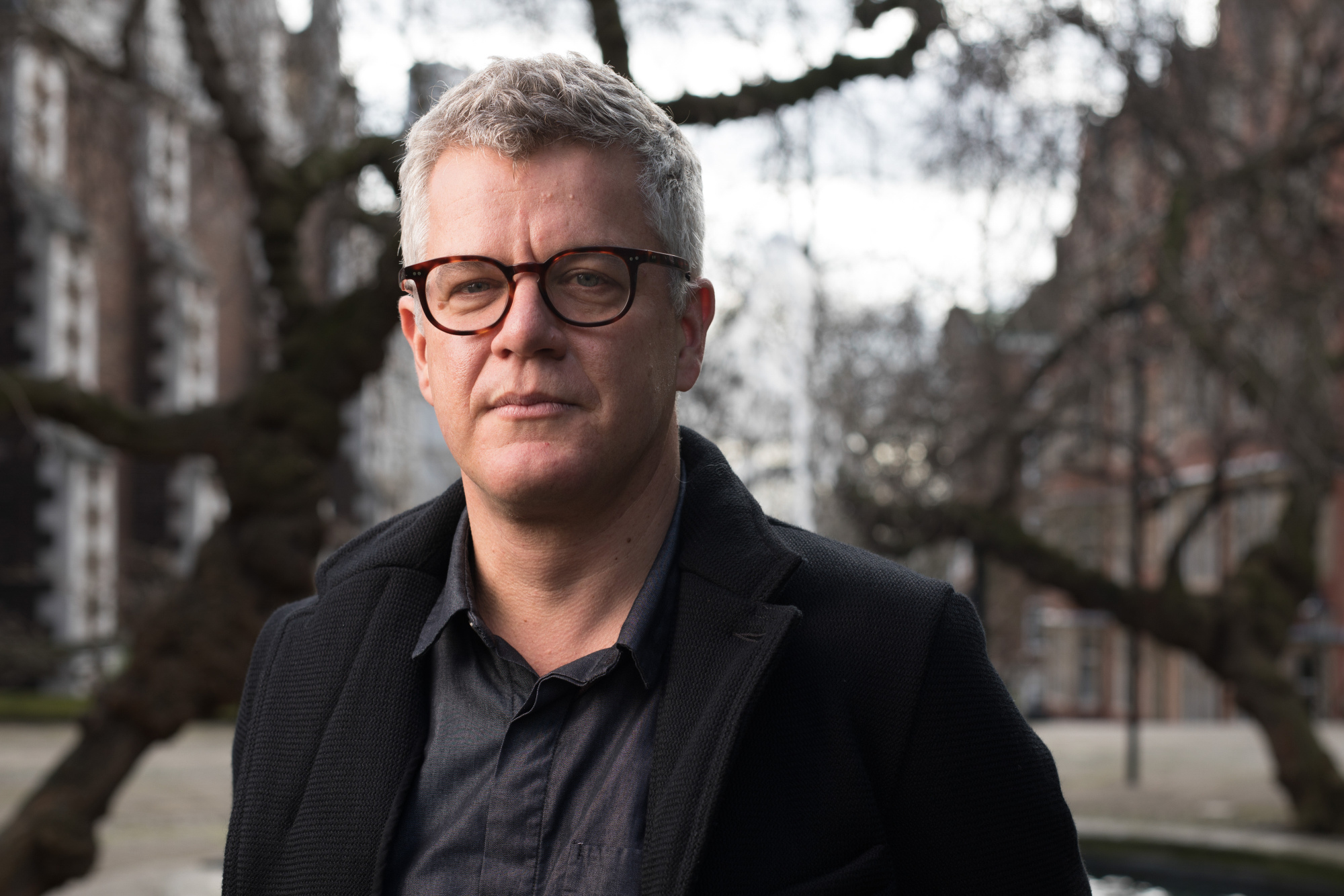 Maugham, whose day job is helping clients, mostly wealthy individuals or companies, in their legal disputes with the government, has emerged as one of the most potent voices against the U.K.'s looming European exit.
He has filed a new legal challenge in Dublin, which he wants to be referred to the European Court of Justice in Luxembourg.
His aim is to secure a ruling that an Article 50 notice can be revoked if an EU member changes its mind about leaving. An initial hearing is scheduled for as soon as June.
As he tells Bloomerg's Kit Chellel: "If the electorate comes to think it has made a terrible mistake, it should have the right to reverse it."
On the Markets
The pound rose against all of its major peers and bonds fell after Bank of England policy maker Kristin Forbes voted for an interest-rate increase, a dissent that caught some in the market by surprise. The central bank kept the benchmark rate at a record-low 0.25 percent in an 8-1 vote.
The shadow of the Brexit negotiations may mean the majority of policy makers continue to keep rates on hold even as inflation accelerates. History also shows it's a long path from a single vote to a majority.

Brexit Bullets
U.K. stands to lose most after Brexit vote, Spanish Economy Minister Luis De Guindos says
German Finance Minister Wolfgang Schaueble says he's "very concerned" about the loss of London as a finance center
Former WTO Director General Pascal Lamy says no Brexit deal would be "extremely bad" for both sides
Irish Premier Enda Kenny and U.S. President Donald Trump met at the White House to discuss the post-Brexit landscape
David Blake of Cass Business School says Brexit is a "golden opportunity" for the City of London to take the lead in blockchain and fintech industries 
12 percent of business managers who voted Leave said they would now vote differently, according to counsultancy CNC
Politico ranks the most important people and groups in the Brexit negotiations
Royal family to make European visits as part of charm offensive, says Guardian
And Finally…
Pressure from Scotland, a budget reversal and a £70,000 fine over election accounting mean it's not been a great week for May and her Conservative Party, even with Brexit on track.
Perhaps it wasn't the best time, then, to launch a new website promoting her "Plan for Britain."
It crashed, with some visitors greeted by the message: "The planforbritain.gov.uk page isn't working."
For more on Brexit follow Bloomberg on Twitter, Facebook and Instagram, and see our full coverage at Bloomberg.com