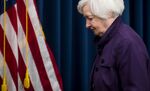 Federal Reserve Chair Janet Yellen grumbled this week that gross domestic product is a "noisy" number. Lately the source of the racket has been within her central bank. 

First-quarter GDP estimates from regional Fed banks show widely different views of the economy, with the New York Fed pegging growth at a rather robust 2.8 percent on an annualized basis and its Atlanta counterpart putting it at a tepid 0.9 percent.

Welcome to the turbulent world of so-called nowcasting, the science of estimating how fast the economy is growing in the current quarter by using computational methods to crunch numbers in real time. In these instances, no economist is tweaking the estimates according to experience or intuition. Estimates are strictly model-driven. 
So why are the results so different? The short answer, according to Stephen Stanley, chief economist at New York-based Amherst Pierpont Securities, is that the two estimates are "trying to answer different questions."
Atlanta's GDPNow model is focused strictly on data used in a traditional calculation of GDP, an exercise with a clearly defined set of inputs based on four components and 13 subcomponents. New York, by contrast, includes such other pieces of data as surveys of consumer and business sentiment. Those may ultimately affect growth but aren't part of an orthodox accounting of GDP.
The two models also seem to weigh the impact of the same data points differently. For instance, on Feb. 28 and March 1,  a flurry of data that included figures for manufacturing, construction and personal income caused the Atlanta forecast to drop to 1.8 percent from 2.5 percent. The New York number declined just 0.2 percentage point, to 3 percent.

Through spokesmen, staff at both organizations declined to comment on the differences between the two models that might help explain why they can deviate so sharply. Both nowcasts are billed as research tools and not official forecasts of their respective regional reserve banks. 
Neither has a particularly long track record. Atlanta's was rolled out in 2011, while New York's was introduced less than a year ago. The two forecasts are currently much further apart than they were at times over the past year, just before the government released its first official estimate of GDP for each quarter.


Thomas Costerg, senior U.S. economist at Standard Chartered Bank, says the Atlanta GDPNow is a more useful guide. "Overall they've done a good job at giving a relatively good depiction of the economy," he said. 
Yellen doesn't seem so convinced. Asked about Atlanta's 0.9 percent forecast at her press conference on March 15, she brushed the number aside, signaling she sees growth somewhere between the Atlanta and New York estimates. 
"I would describe our economy as one that has been growing around 2 percent per year," she said. "That's something we expect to continue over the next couple of years.''