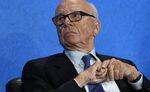 Six years after Rupert Murdoch's bid to buy the rest of Sky Plc was sunk by a phone-hacking scandal, he's having another go. It might not be clear-sailing this time around, either. 21st Century Fox Inc.'s 11.7 billion-pound ($14.5 billion) offer to take full control of the U.K.'s biggest pay-TV operator has been referred to U.K. regulators, bringing another debate about Murdoch's grip over the U.K. press and his family's attempt to create a trans-Atlantic media and entertainment giant. Uncertainty whether Fox, which already owns 39 percent of Sky, will succeed has caused Sky shares to trade at a discount to the offer price.
1. What's different this time?
Murdoch pulled the last deal in 2011 after his empire was engulfed by a corruption scandal triggered by revelations that journalists at his News of the World tabloid had hacked into the voice-mail messages of a murdered schoolgirl. The sleazy tactics raised questions about management oversight and exposed the sometimes-cozy relationship between his media outlets and the government. Fox says it has transformed its corporate governance practices and learned lessons from the investigations. The media landscape has changed, too, with new distribution channels like Twitter and Facebook potentially defusing concerns about concentration of media ownership.
2. So what will the regulators consider?
The trickiest bits are likely the two public-interest issues to be studied by Ofcom, the U.K.'s telecommunications regulator: the effect on media plurality and commitment to broadcasting standards. It will look at how the deal affects the diversity of viewpoints available across media, and whether it would give any one owner too much influence over public opinion and the political agenda. It will again consider whether Sky would be a so-called fit and proper holder of a broadcast license. During the last attempt, Ofcom ruled in Sky's favor, yet criticized corporate governance failings by James Murdoch, chairman of the broadcaster at the time and current chief executive officer of Fox. The European Commission is reviewing the deal on antitrust grounds and the Competition and Markets Authority will advise on procedural details.
3. Who's against the deal?
Critics such as former U.K. Labour leader Ed Miliband say the deal would give the billionaire's family too much influence over U.K. media. Rupert Murdoch is co-chairman of Fox and executive chairman of News Corp., which owns the British newspapers the Times, the Sunday Times and the Sun, the U.K.'s second most-read print newspaper. His son James is chairman of Sky, whose Sky News is the fifth-most used news source across all platforms in the U.K., according to a 2015 Ofcom report. On broadcasting standards, opponents of the tie-up say that the phone hacking at News International, a former division of News Corp., and ongoing civil cases against some of its newspapers raise questions about the suitability of the Murdochs to have increased control over Sky. While neither News Corp., Fox nor the Murdochs were ever charged in relation to phone hacking, Culture Secretary Karen Bradley has flagged concerns over "serious" corporate governance failings.
4. What's the case for letting it go through?
Fox argues that it no longer holds any newspaper assets, following a 2013 restructuring that placed the titles in News Corp., a separate company, the majority of whose shareholders and board members are independent. Fox also argues that media plurality has increased since it last tried to buy Sky, driven by increased news consumption through social media. In 2012, News Corp. revamped its ethics program and brought in a new general counsel, Gerson Zweifach, and appointed John McCoy and Brian Michael as executives to focus on compliance. All three are now with Fox.
5. Will the deal be approved?

Much will depend on Ofcom's findings. At the time of the previous takeover bid, Ofcom raised concerns around the effect on media plurality, prompting News Corp. to offer to put Sky News into a separate, independent company. Such a separation remains a prospect this time around, said Claire Enders, founder of research company Enders Analysis. The deal is likely to go through but with delays and conditions attached, Berenberg analyst Sarah Simon wrote in a report to clients. Ofcom was highly critical of James Murdoch's conduct in 2012 yet took comfort from his limited influence given the sway of other Sky directors and shareholders, Simon said. That may become an issue now.
6. What's the market saying?
Sky shares were trading at 9.89 pounds at 1:50pm on March 16 in London, leaving the stock 8 percent below Fox's offer of 10.75 pounds per share. Sky's shares have traded consistently around that level since the deal was announced, reflecting the ongoing uncertainty about its fate. The spread is more than double that seen when Liberty Global Inc. bought U.K. cable-television provider Virgin Media Inc. in 2013. Then, the spread ranged from just above 3 percent when the deal was announced, to close to zero as closing approached.

7. Why does Murdoch still want the deal?
He has long coveted full ownership of Sky, having founded Sky Television in 1989 before reducing his stake to 39 percent in 1994. The deal would give him control of one of the most powerful pay-TV distribution platforms in Europe. A tie-up would also broaden Fox's revenue streams, increase its geographic diversity and bolster its portfolio of drama and sports content.
8. Does this have anything to do with Brexit?
Possibly. The U.K. government's desire to promote investment into Britain during sensitive negotiations to leave the European Union make it likely that the bid will be cleared, Liberum analyst Ian Whittaker wrote in a note to clients. The current Conservative government in the U.K. is also more favorable to the deal than the Conservative-Liberal Democrat coalition of 2011, Whittaker said. The government may not be inclined to pick a fight with Murdoch while it seeks the best terms for the U.K.'s exit from the bloc. The nation's leading tabloids, including Murdoch's Sun, are cheerleaders for Brexit and helped drive public opinion against the EU.
9. What's the likely timing?
The Competition and Markets Authority and Ofcom will assess the deal and report back to Culture Secretary Bradley within 40 working days. Bradley will consider the findings and then either give the green light, consider undertakings from Fox to address any concerns raised or ask the regulator to investigate further. In the latter case, the competition authority would report back within six months with its recommendations. The European Commission's decision is expected by early April.
The Reference Shelf

Before it's here, it's on the Bloomberg Terminal.
LEARN MORE